I've always tried to be healthy but now I look back I realise how I was getting it all wrong and, if anything, was probably doing myself more harm than good and affecting my health long term in the way I was eating. Then, two years ago, something broke the cycle: the UnDiet!
As a teenager and throughout my 20s I made lots of mistakes with my eating and drinking habits, probably not uncommon to many:
Being an unhealthy vegetarian eating too many carbohydrates and processed foods and not enough good fats and proteins.
Calorie cutting to try and lose weight quickly, only to end up overeating on calorie-rich sugary foods when my body got low on energy and badly craved fuel quickly.
Being afraid of fats so buying all the low-fat versions only to be overloading on sugar and lacking nutrients due to the over-processed foods.
Focussing on how much I was eating instead of what I was eating.
These habits and ideas are so easy to fall into. I was a victim of media, marketing and just the norm of everything going on around me. I've always suffered with digestive complaints but could never really pin down what the problem was exactly. I also used to get a cold fairly regularly, often every 6-8 weeks. My skin was bad and my mood was pretty unstable. But I never really considered that there might be something I could do about all this.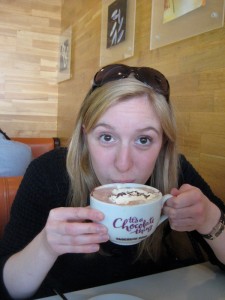 Then in 2013 I bought Meghan Telpner's new book, UnDiet. I mostly thought it would be a nice way of getting a few new healthy recipe ideas and to hear Meghan's take on all the many confusing health questions out there. Should I eat gluten? What about dairy? Am I vegetarian, or vegan, or paleo or just a fussy eater?! What I didn't expect, but I sure got, was that UnDiet changed my life.
What Meghan Telpner and her UnDiet lifestyle gave me was a change of focus. UnDiet means not focussing on how much you eat or calories, but instead just basing everything around eating wholesome unprocessed food that is balanced and provides your body with everything it needs to help you to become the best version of yourself. One of Meghan's favourite lines is that everything you consume will either promote your health or your disease – so which will you choose?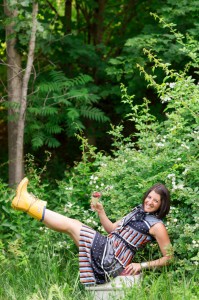 By eating delicious, good-for-you, balanced meals every 2-3 hours throughout the day, you're never left short so it's bye-bye cravings and bye-bye overeating. I stopped worrying about whether or not I was "allowed" to eat something because it would make me fat, I would just think about whether it was really what my body needed and whether it would make me feel vibrant, well and fulfilled or sick, grumpy and bloated! Choices became easy.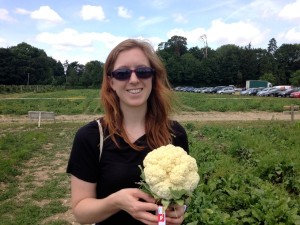 I also learnt that "labels are for tin cans" – such a refreshing statement that Meghan advocates meaning that I no longer feel the need to explain myself by one restrictive term but instead eat what I know is best for my own health and beliefs. As Meghan would put it, I'm a "Lindsay-a-tarian"!
Now you know what a big influence the UnDiet life had on me, you can imagine how excited I was when Meghan's new book came out this year – The UnDiet Cookbook.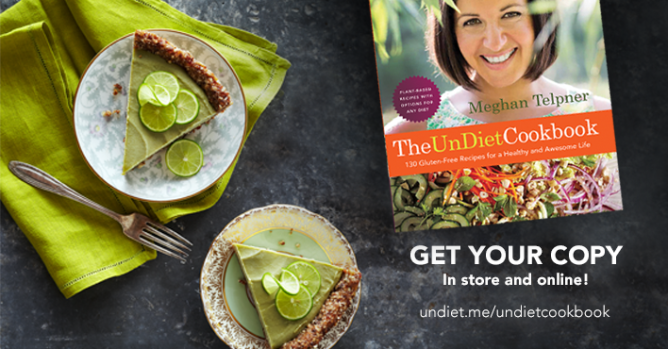 Since my book arrived at the start of October I have already made 10 of the recipes and I can honestly say that none of them have disappointed. I love the accessibility of the recipes in this book. As the world of healthy eating has really exploded in the last few years, hundreds of new food products have crept into recipes, from baobab to chaga to kimchi. Although all of the recipes in the book are made from unprocessed whole raw food ingredients, providing nutritional powerhouses with every meal, you don't find many ingredient demands that are unobtainable at the supermarket nowadays, or, at the very least, in your local health food shop.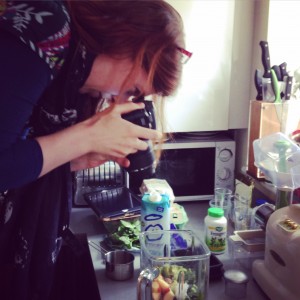 What I love about the cookbook is that every single recipe looks really delicious, nutritious and is achievable to make…and I would ACTUALLY make it – how often can you say that? Meghan's enthusiasm for the UnDiet recipes and lifestyle is infectious and comes across on every page. The recipes are vibrant and I really like the fact that nearly every recipe is pictured so you can see what you're aiming for.
A great bonus is also the section at the back which helps you to organise your time ahead of events like holiday celebrations, kids' parties, healthy brunch, girls' spa night in or a fun family Mexican taco night. My mouth is watering now just at the thought. It makes the whole operation so feasible and means that cooking healthy food from scratch can slot into your everyday life instead of becoming a chore.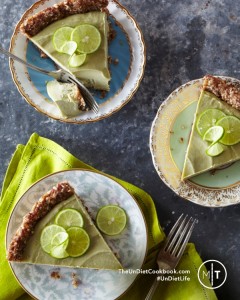 I had so much faith in the new recipes that the first I tried, the Key Lime Pie, I served as dessert for a group of friends I had round for dinner. What better critics? This pie, or pies since I made 5 smaller pies instead of one big one, is raw, with a base of almonds, pecans, coconut and dates and a filling of a wonderful, tangy, sumptuous cashew nut cream. And the verdict? "Delicious". They couldn't fault it. Thanks for being my guinea pigs guys!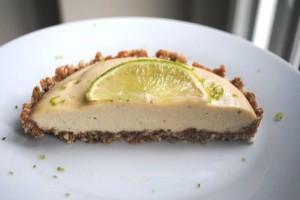 I've been awarded the very special privilege of sharing the Key Lime Pie recipe from the book with you and I suggest you go shopping now to stock up on the ingredients if you don't already have them so you can share the lime pie love asap.
Rawmazing Key Lime Pie
Prep Time: 25 minutes
Setting Time: 3 hours
Serves 8–10
Crust
1 cup dried dates
1/2 cup whole almonds, coarsely chopped
1/2 cup whole pecans, coarsely chopped
1/4 cup unsweetened shredded dried coconut
1 Tbsp coconut oil
Pinch of sea salt
Filling
2 cups cashews
3/4 cup fresh lime juice
1/2 cup maple syrup
⅓ cup melted coconut oil
1 tsp matcha powder (optional for color only)
1 tsp pure vanilla extract
Garnish: 6 key limes, sliced (optional)
Make It Like So
Put all the crust ingredients into a food processor, and process until the ingredients can just stick together. You shouldn't have a gooey mess. Stop and scrape down the sides as needed. Press the crust mixture into the bottom and up the sides of a 9-­inch glass pie dish.
Place all the filling ingredients in your high-speed blender or food processor and blend until the filling is completely smooth and creamy.
Pour the filling evenly over the pie crust, smooth with a spatula. Cover the pie and place in the freezer to set for at least 3 hours, or overnight if possible.
Let the pie sit at room temperature for 10 minutes and garnish with key limes before serving.
Excerpted from The UnDiet Cookbook: 130 Gluten-Free Recipes for a Healthy and Awesome Life by Meghan Telpner. Copyright © 2015 Meghan Telpner. Photography Copyright © 2015 Maya Visnyei and Catherine Farquharson. Published by Appetite by Random House, a division of Random House of Canada Ltd., a Penguin Random House Company. Reproduced by arrangement with the Publisher. All rights reserved.
In addition to the pies, I've also made Meghan's Cinnamon-Spiked brownies, which I fed to my vegan work colleague and she said they were the tastiest thing she had eaten in as long as she could remember.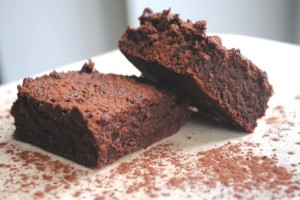 I've made lots of juices and smoothies out of the book. I thought I had every smoothie combo down, but Meghan managed to offer up some new inspirations. I made:
Beet the Heat juice – can't beat the colour in this
I

♥

 Blueberry Blend smoothie – quick, easy, so good for you and beautifully balanced to fill me up till lunch
Chai Spice Almond Milk – I might have overdone it on the cardamom a little but used this in everything from smoothies to cakes – you must try it
Lean + Green Shake-It-Up smoothie – fruity and joyful, don't ever think green smoothies should be anything other than yum yum yum
Brain-Fuel Smoothie – good for my brain AND my tastebuds.
I also had Chia Morning Magic for breakfast this week which got the seal of approval from my other half so that's a winner and I'm sure my guts were happy for days after thanks to the wonderful soothing "mucilaginous" texture of chia seed.
The Creamy Zucchini Hummus (or courgette houmous in my part of the world!) served as snacks for several days and helped to use up the last few courgettes out my mum's garden. A refreshing alternative to standard houmous.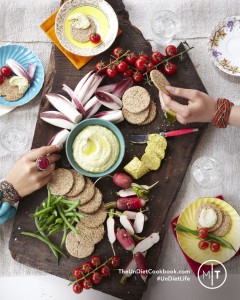 I've hardly got started on main meals from the book yet but I did manage to throw together (yes, it's that easy, so long as you have a food processor) some Almond Veggie Burger Bundles with Balsamic Roasted Vegetables. Sometimes we forget that texture is a super important element of a meal and this is something that can be lacking from meals without meat, but I don't think anyone could miss meat in these veggie burgers. Tasty but also featuring a great crunch and chew.
All in all I recommend you get this book, for yourself and for all your friends. Then get prepared to want to be in your kitchen ALL the time. Got a question for me? Post it below and I'll get back to you or contact me directly.