A slow cooker sensation! The flavours in this are immense and really transported me back to Hungary where I visited several years ago. Although I'm not sure this would hold up as a traditional recipe so don't tell me off!!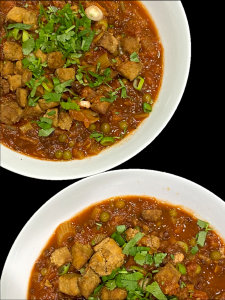 It's a hearty warming stew. On the first day of cooking we had it with my new favourite thing…CELERIAC MASH!! Honestly, I know it's nothing new but it's been a revelation to me. Just peel, chop, steam for 15mins then blend with some butter or vegan spread, salt & pepper. It's so smooth and delicious, lighter than potato yet still rich and creamy and hasn't got a strong celery flavour or anything like that, if you're worried. I definitely recommend giving it a go. One average sized celeriac will serve 2.
Today we just had the stew on its own but it would go great with rice, quinoa, jacket potato, some toasted sourdough or your fave bread/cooked grains.
Give it a go!
INGREDIENTS (4 servings):
1 onion, chopped 🧅
2 cloves garlic, crushed 🧄
2 medium carrots, grated 🥕
1/2 cup frozen peas (70g)
1 stick celery, chopped
1 pack puy lentils
1 carton Passata (500g) 🍅
1 cup (250ml) boiling water mixed with 2 tsp bouillon veg stock
1 tbsp sundried tomato paste
1 tbsp balsamic vinegar
1 tsp mixed herbs
1 tbsp paprika
Salt and pepper
TOPPINGS:
200g (1 pack) @tofooco cubed sweet soy tempeh cubes (or plain tempeh if you prefer)
2 spring onions, sliced
1 handful fresh coriander, roughly chopped
1/2 lemon
METHOD:
Set slow cooker to high. Place all the ingredients (excluding toppings) in the slow cooker and stir well. If you have time leave it on high for 30-60 mins then turn to low for 8-12 hours (or more if you like). Or just put it straight on low.
When you're ready to eat, cook the tempeh according to packet instructions. Taste the goulash and adjust seasoning to taste. Share into bowls and top with the tempeh, spring onion, coriander and a squeeze of lemon.
If you don't want to use a slow cooker, heat a little oil in a large saucepan, sweat off all the veg for 10 mins, stirring occasionally. Add all the other ingredients, stir and simmer gently for 30-60 mins or until the veg is all cooked.