I love creating a vegetarian main dish for the spread on Christmas Day. To me it is much more exciting than the meat option as it has so much potential for exciting flavours and textures! This celebration loaf certainly lives up to those expectations! What I love about a loaf like this is that all the preparation can be done in advance – a very important feature of a recipe at holiday times! You can make the loaf a day ahead and then put into the oven on the day when needed.
Although I would usually add some greens into a mix like this, I decided not to on this occasion as there are plenty of layers of yumminess and there are lots of vegetables and trimmings on the table for big celebration meals of the sort that I would cook this loaf for.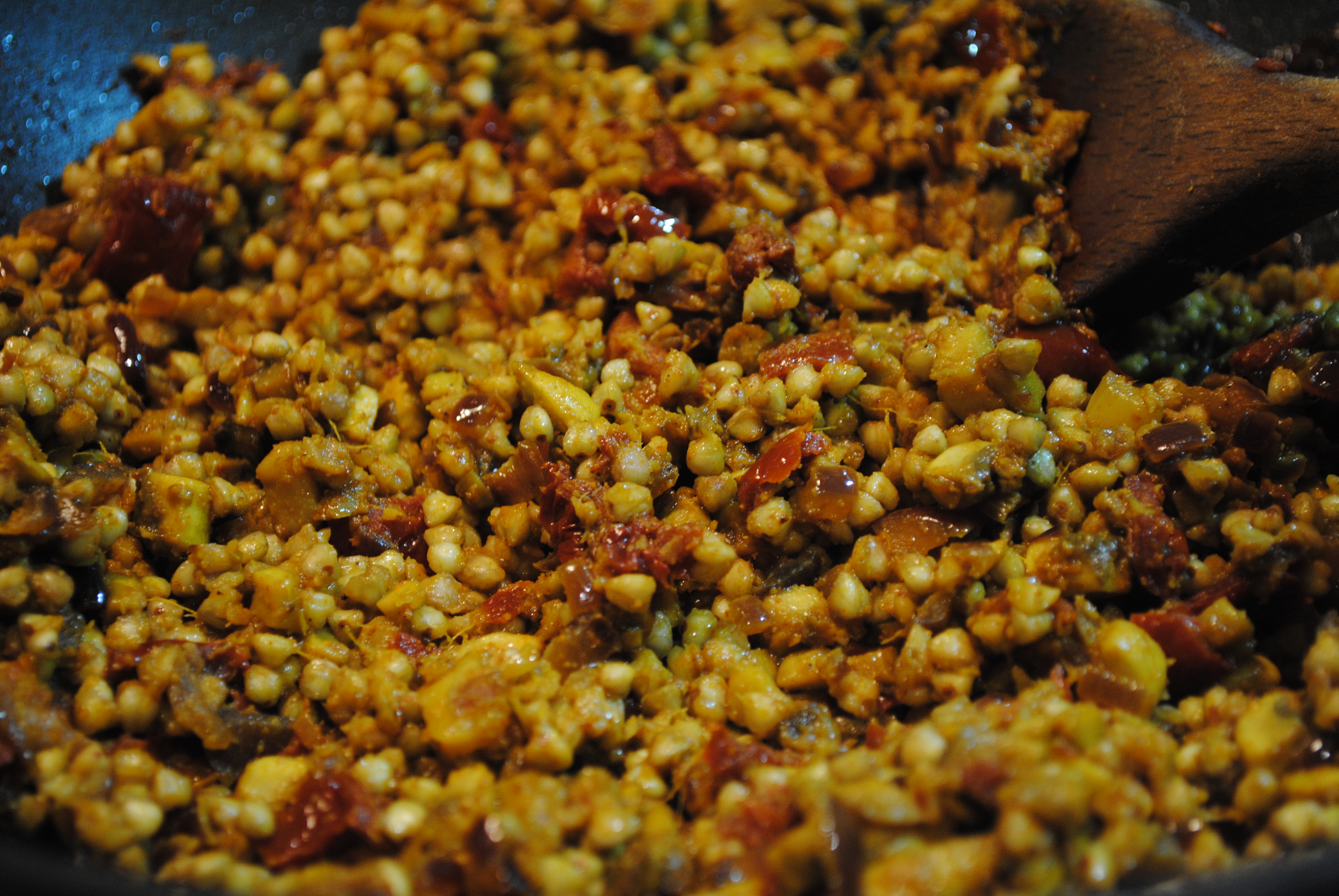 This recipe is wonderfully balanced. The beans and buckwheat are great sources of protein, providing all of the essential amino acids, as well as promoting good cholesterol levels. Buckwheat is also a good grain for promoting better blood sugar control and is high in minerals like magnesium and manganese. There are also good fats provided by the olive oil and organic butter. The peppers, cranberries and tomatoes provide a little bit of tasty sweetness to curb cravings later in the day!
There are a couple of ingredients that would be much much nicer if you can make them at home yourself. The kidney beans are plumper and tastier if cooked from organic dried beans, and you can avoid potential contamination by a nasty chemical called BPA that is found in tin cans. Cook up a big batch and store in individual bags in your freezer. The cranberry sauce can be homemade easily and allows you to avoid the refined sugars found in many ready-made jars. I particularly like the look of this one.
I hope you enjoy cooking and eating this celebration loaf as much as I do. It makes a fantastic centre-piece for a Christmas meal, but serves just as well on Thanksgiving, New Year's Day, or any birthday or gathering. It looks and tastes impressive but is really very quick and simple so find an excuse to give it a go soon. Comment below to let me know how it goes and tag me in your twitter or instagram pictures (@veggiepowers). Also, what have you cooked for vegetarian celebration meals?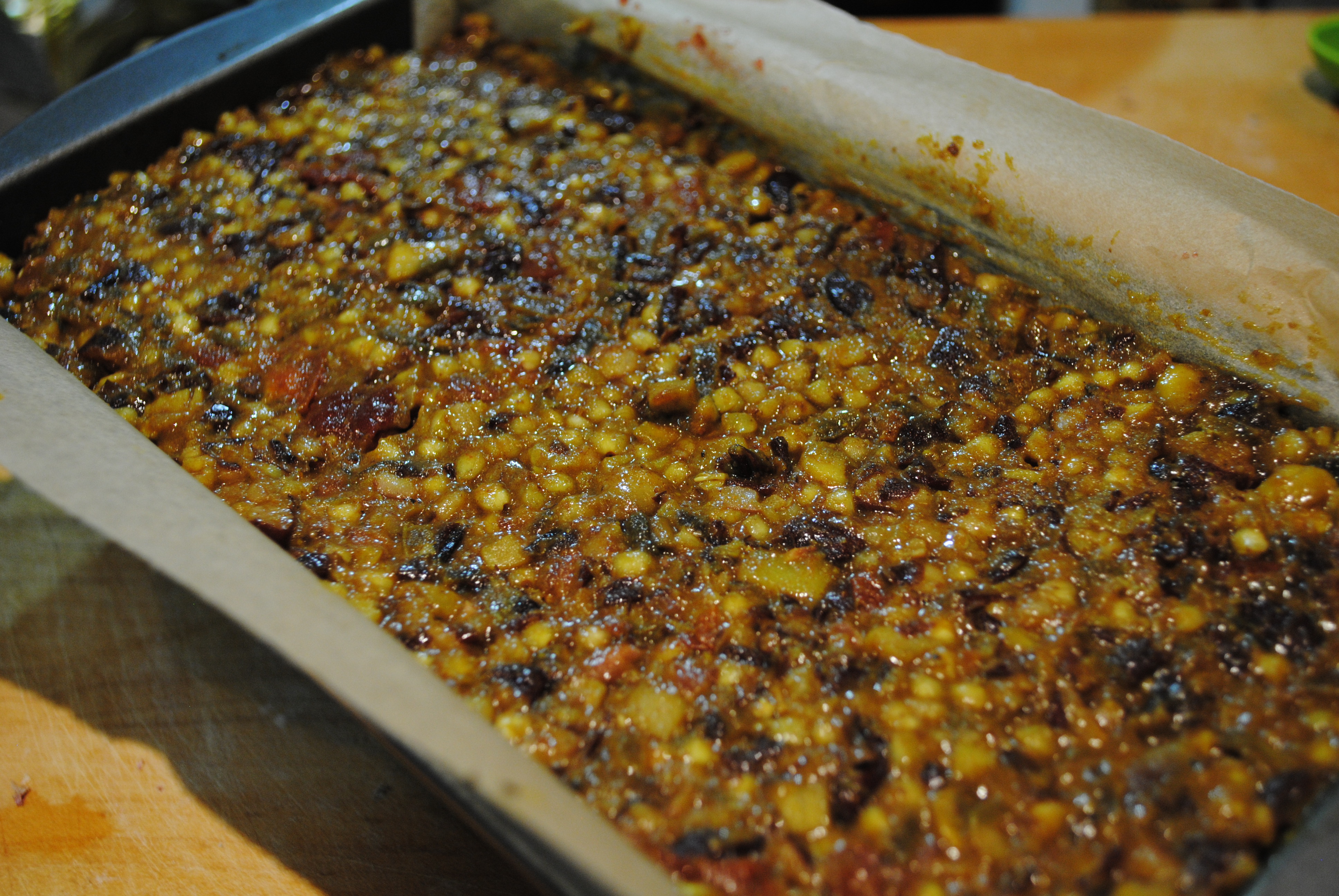 INGREDIENTS   |  serves 6-8
1/2 cup buckwheat
1 1/2 cups water 3 cups
600g or 1 1/2 tins of cooked kidney beans
1 tbsp olive oil
2 tbsp organic butter (or ghee or coconut oil)
1 onion, chopped
1 clove garlic, crushed
1 tbsp fresh ginger, grated
1 tsp each of ground cumin, ground coriander, ground turmeric, curry powder
2 cups mushrooms, finely chopped
2 tsp dried sage
1/2 cup sundried tomatoes, roughly chopped
1 tbsp freshly squeezed lemon juice
sea salt and freshly ground black pepper
170g jar, approximately 1 cup, roasted peppers
2 eggs, beaten
1/2 cup cranberry sauce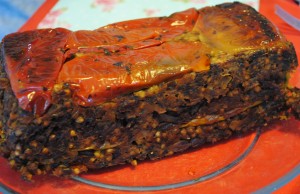 METHOD:
If you want to cook the loaf straight away, preheat the oven to 180oC or 350oF.
Unless you have pre-roasted buckwheat, roast the buckwheat in a dry pan on a medium-high heat for a few minutes until toasted and slightly browned. Transfer to a small saucepan and add the water. Bring to the boil and simmer until the top water has been absorbed to about the level of the buckwheat then cover with a lid. Simmer gently for 5-15 minutes – as much as is needed for all the water to be absorbed. There should be little dimples in the surface of the buckwheat. Turn the heat off and leave for a few minutes to rest before fluffing with a fork.
Add the oil and butter to a large frying pan or wok. Melt then add the onion and cook for several minutes to soften, stirring frequently. Add the garlic and ginger and cook for a minute then stir in the spices and cook until fragrant. Add the chopped mushrooms and sage and cook for approximately 10 minutes so that all the components are cooked and the flavours have intermingled, then turn off the heat.
Add the kidney beans to a food processor and pulse a few times so that they are roughly chopped up but not too fine. Alternatively, you could do this with a knife or just mash them slightly with a fork.
Stir in the sundried tomatoes, beans and buckwheat to the spiced mushroom mixture. Add the lemon juice and season a little at a time, checking for taste very regularly. If you feel the flavour is lacking, try adding a pinch more salt then taste again. If you want more punch, add some more ground black or cayenne pepper. If you want a bit more of a fresh tang, try adding another squeeze of lemon juice. Now add the beaten eggs and mix well.
It's time to arrange the loaf. Lightly grease a 2lb loaf tin and line with parchment paper. Drain the grilled peppers from their jar of oil and use approximately half to line the bottom of the tin (remember this will form the top of the loaf so arrange them nicely!) Then add a layer of the spiced mixture (approximately a third of it). Cover this layer with the cranberry sauce then add another layer of the mixture (another third). Use the rest of the peppers to line the top then cover with the remaining mixture and level the top.
Cover the loaf tin with foil. When ready to cook, place in a preheated oven for 1 hour. For the final 10 minutes, you can remove the foil to brown the mixture slightly.
Remove from the oven and run a knife around the edge to loosen the loaf from the tin. Place a plate upside down on top of the tin. While wearing oven gloves or using a towel, turn over the loaf tin so it is turned out on the plate. Remove the tin and gently peel off the parchment paper.
Carry to the table and expect a round of "ooh"s and "aah"s! Cut into generous slices (start with approximately 1 inch per person) and serve with plenty of steamed greens and roasted root veggies and a bit of extra cranberry sauce if you like.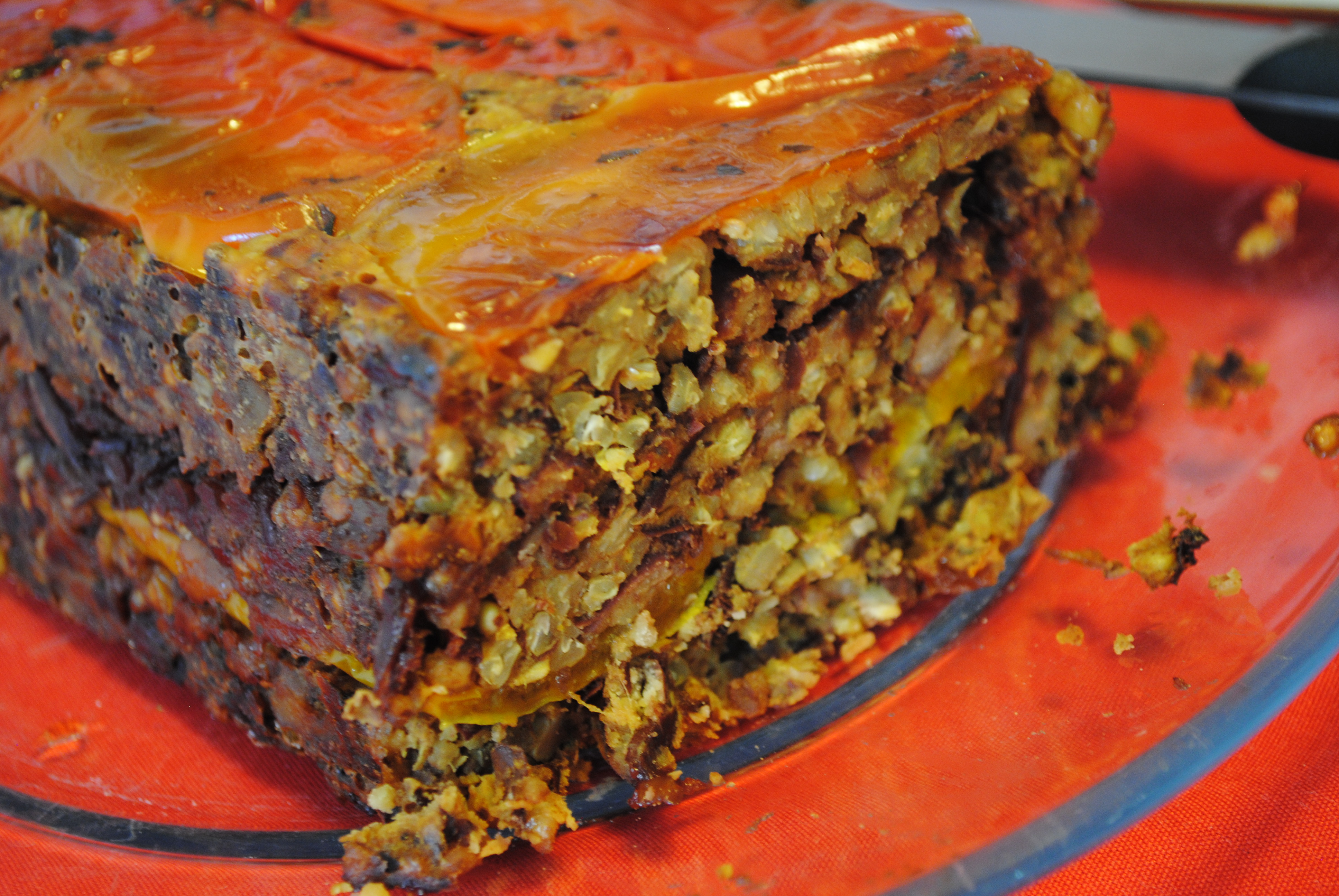 REFERENCES:
http://www.whfoods.com/genpage.php?tname=foodspice&dbid=11
http://www.whfoods.com/genpage.php?tname=foodspice&dbid=87
http://www.primallyinspired.com/naturally-sweetened-cranberry-sauce/