Sometimes a Friday night in is just what you need, but far too often we reach for a takeaway menu that does nothing to prepare us for a great weekend ahead. Alternatively, why not treat yourself to this wonderful warming vegetable stew that's easy to make and great for enjoying while watching a good film on TV.
The trouble with fast food or takeaway is that we tend to get overloaded with too much food that has been overly processed so any nutritional value is lost. It may give some temporary pleasure but it is short-lived, it challenges our digestive system, and makes us feel sluggish, uncomfortable and nutritionally depleted.
Now I know it might not be everyone's cup of tea, and very often we are all exhausted by the end of the working week, but sometimes a bit of chopping and stirring in the kitchen, hopefully even with some help and/or company, can be very therapeutic. Plus, knowing exactly what is going into your dinner and all the goodness you are going to fill yourself with is much more satisfying that paying for overpriced, disease-promoting fast food. A little effort is WORTH it!
This recipe is very adaptable to your personal preferences or whatever you have available to you at the time. So give it a go, and enjoy!
Ingredients: (serves 4)
2 tbsp coconut oil
1 red onion, chopped
2 cloves garlic, crushed
1 tbsp chopped/grated fresh ginger
1 tsp turmeric
1 tsp ground cumin
1 tsp ground coriander
1 tsp mild chilli powder
½ tsp smoked paprika
1 stick celery, diced
1 medium carrot, diced
1 cup mushrooms, roughly chopped
1 handful green beans, roughly chopped
1 tin chickpeas drained and rinsed well, or cook your own
1 tin chopped tomatoes
2 cups kale (or alternative greens), roughly chopped
¼ cup dried apricots, diced
1 tbsp lemon juice
1 handful fresh coriander, chopped
1 tsp raw honey (optional)
sea salt
cayenne pepper
To serve:
1 cup quinoa
1.5-2 cups water
Method:
Add coconut oil to a medium-large saucepan on medium heat.
Add chopped onion and cook for a few minutes.
Add ginger and garlic. Stir regularly and cook until the onion is softened.
Add the spices, stirring for 1 minute, (turmeric, cumin, coriander, chilli powder, smoked paprika)
Add the carrot, celery, chickpeas, mushrooms and green beans. Also add the tin of chopped tomatoes then half fill the tin with water, swirl around and pour in too.
Simmer the stew on a low-medium heat for around 15-20 minutes until the vegetables are cooked but not too soft.
While you are waiting, rinse the quinoa thoroughly in water using a sieve. Rub with your fingers until no more bubbles or foaming are formed. Drain and place in a saucepan. Add the water. Bring to the boil then simmer (don't boil too vigorously) for about 15 minutes until all the water has been absorbed then turn the heat off and let it rest.
Add the kale/greens to the stew and stir in until wilted.
Add apricots and lemon juice (and honey if you like a little sweetness).
Season with sea salt and cayenne pepper to taste.
Serve the stew with the quinoa and top with chopped coriander.
TOP TIP: If the stew is too watery, you can boil it a bit more vigorously for a few minutes OR mix 1 tbsp arrowroot starch with ¼ cup water and stir into the stew to help thicken the sauce. Repeat if necessary.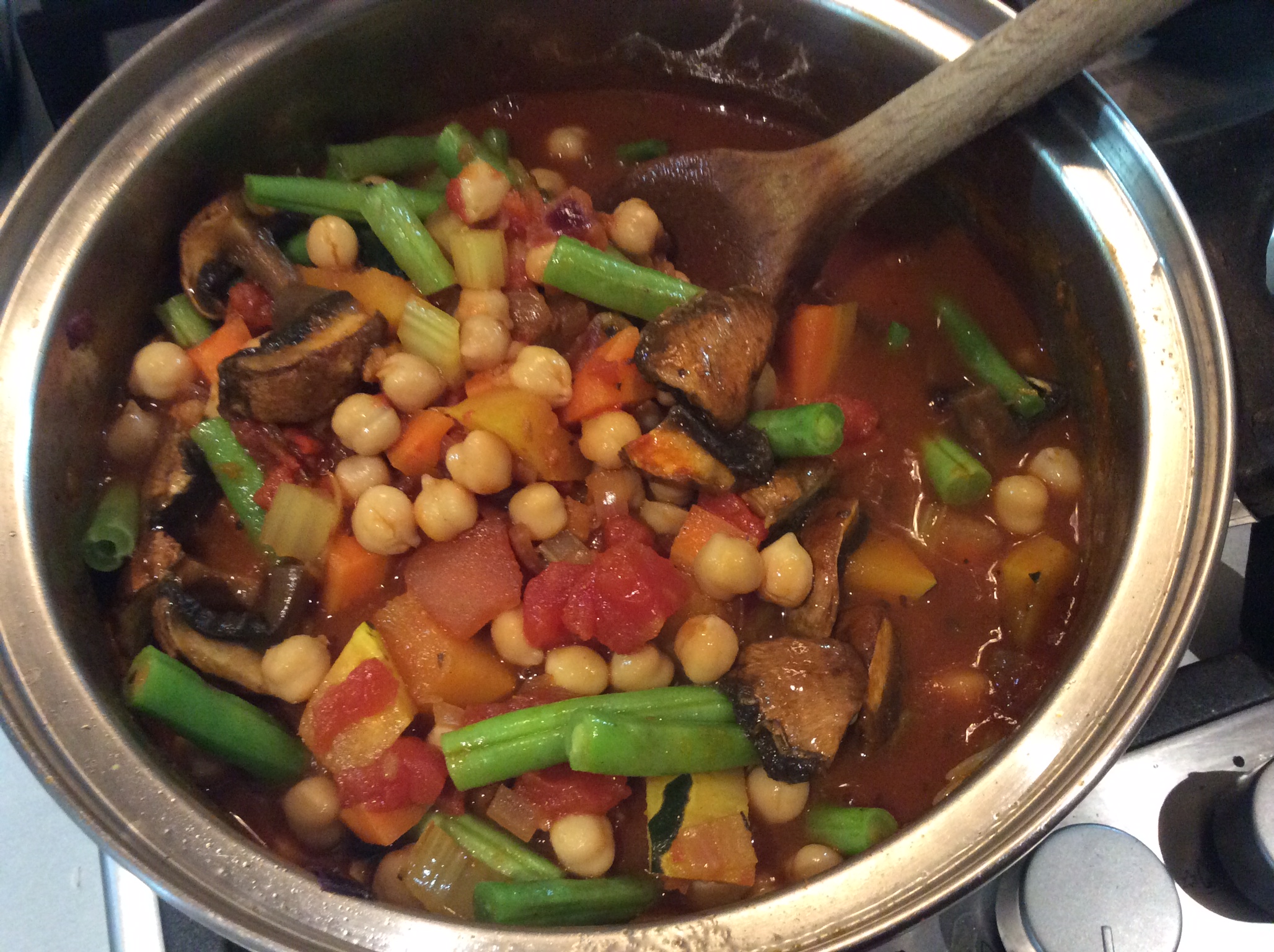 P.S. Goes very nicely with a glass of organic red wine