August is coming to an end and the days may be drawing in, but this is a time of year that brings with it so much wonderful seasonal produce. What better way to embrace these wonderful tastes than with a healthy, filling, comforting smoothie.
I like to enjoy smoothies, as I did with this one, for breakfast, when I have my blender nearby, but they equally make a delicious and wholesome lunch or snack.
The great thing about smoothies is that they are a wonderful opportunity to fill yourself with lots of goodness.
I am very lucky that my dad has a fig tree in his garden which has given us a bumper crop this year…and he's willing to share! Peaches, too are in their prime. Look for them in your local greengrocers or farmers' market.
We should be aiming to have a good source of protein and good fats with every meal. Proteins, made up of amino acids, are the building blocks of our bodies and vital to all the processes that keep us ticking along as we should; and good fats help to slow down the absorption of sugars through the walls of our small intestine, thus helping to balance and prevent spikes in our blood sugar levels – vitally important. Good fats (like coconut oil and those found in nuts and avocado), along with fibre, are therefore great alongside fruit to counter the high levels of sugar they contain.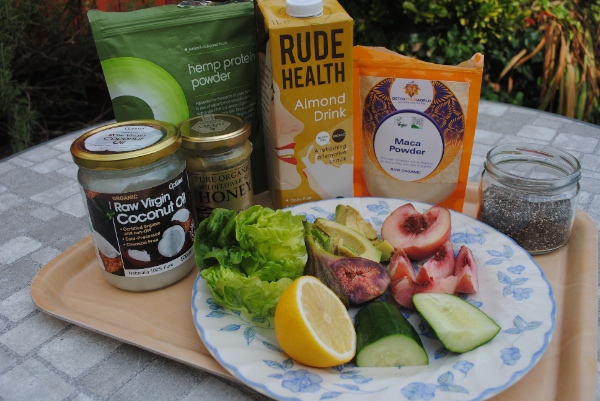 If you are fairly new to the health train (welcome and well done) then you might think the ingredients list below is a bit long and features some strange powders and potions. Just by way of reassurance, there are several ingredients I very commonly throw into my smoothies that are not essential. You certainly don't need to go out and break the bank at your local health food shop straight away. It took me a good few months to build up a good collection.
When you first start making smoothies, it is helpful to follow a recipe, and I am always excited to try out a new one, but after a while you get used to good combinations and measures and you can just use whatever you have to hand. Don't be afraid to make substitutions. It is much better to have a go and find the flavours you like best than to be scared off by a strange taste or a lack of one component and not trying at all. Get creative. Have fun!
Finally, don't worry if you don't have the most powerful blender. I sometimes feel like everyone in the world has a vitamix or blendtec apart from me. Yes, it helps to have a high-powered blender, but I currently just use the blender attachment on my old food processor and it does the job just fine.
I'd love to know what you think of this recipe. What are your favourite smoothie ingredients? Do you follow a recipe or just improvise? Add your comments below.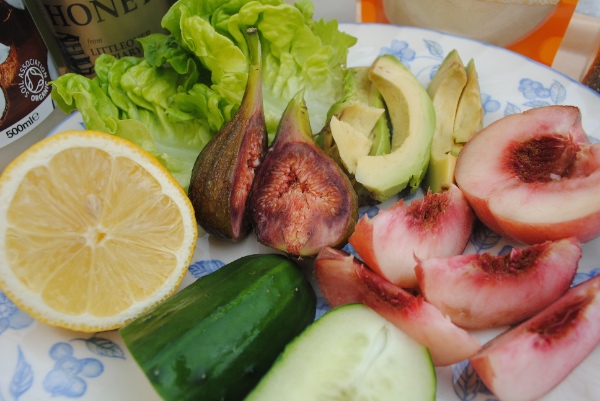 Ingredients (Serves 1-2 (depending how hungry they are))
1/2 avocado
1 peach
1 fig
2 inch piece of cucumber
2 little gem lettuce leaves
1 tsp coconut oil
1 cup almond milk (make sure it's unsweetened and free from unnecessary additives, or just use water)
Juice of 1/2 lemon
1/2 cup ice cubes
1 tsp raw honey (cold pressed)
1 tbsp ground flax seed
1 tbsp green protein powder (e.g. hemp)
1 tsp maca root powder
1/2 tbsp chia seeds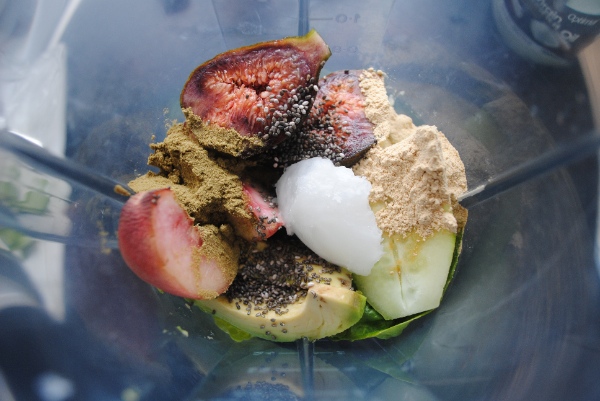 Method
Place all ingredients in a blender and blitz until smooth. You may need to scrape the sides down in between blitzes. Pour into a tall glass and enjoy with a nice thick glass straw, preferably sitting in the sunshine.