This makes a great store-cupboard meal but is absolute comfort food at its best. Easy to knock up and easily frozen so make a big batch and enjoy it again another day!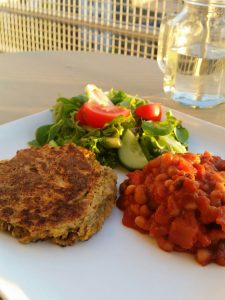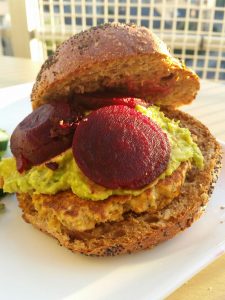 Spicy lentil bean burgers
INGREDIENTS | serves 3-4
1/2 onion, roughly chopped
3 garlic cloves, roughly chopped
1/2 cup of red lentils (measured dry), cooked in water
1/2 cup of chickpeas
1/2 cup oats (and more if the mix is too wet)
2 eggs
1 carrot, roughly grated
2 small cooked beetroot, roughly grated (optional)
1 tsp each of smoked paprika, chilli powder, ras el hanout (or to taste)
2 tbsp rapeseed oil
sea salt to taste
burger buns (optional)
METHOD
Pulse onion and garlic in a blender to make a chunky paste.
Add the red lentils, chickpeas, oats, eggs and spices and pulse again to make a thick and chunky mix. Stir in the carrot and beetroot.
Heat a frying pan on medium heat with rapeseed oil. Make 6 patties out of the mixture (might be easier to shape them in the pan) and cook for 5 minutes on each side.
Serve topped with leafy salad, avocado, houmous and homemade smokey baked beans (see below).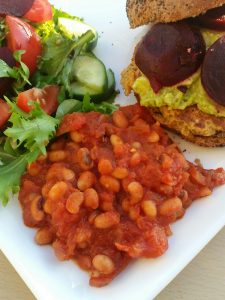 Smokey baked beans
INGREDIENTS | serves 4-6
1 onion, chopped
2 garlic cloves, minced
2 carrots, chopped to small cubes
2 tins of any kind of white bean (eg haricot or black-eyed beans)
2 tins of chopped tomatoes
2 tbsp tomato puree
2 tbsp of apple cider vinegar
2 tbsp of coconut sugar (or maple syrup)
Smoked paprika, salt and pepper or cayenne pepper to taste
METHOD
Fry the onion and garlic until softened in a large saucepan.
Add the rest of the ingredients and leave to cook for 1-1.5 hours (add water if needed), stirring regularly.