Once you give these nut butter cookies a go they are sure to become a staple in your household as they have done in mine. Easy, fast and delicious. Don't expect to have many leftover!…
This weekend we've got a long drive ahead of us from London to Newcastle as we journey North for the Great North Run half marathon on Sunday.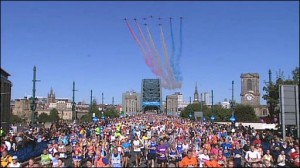 Healthy snacks are a must on a long journey as boredom leads to hunger and motorway service stations offer little in the way of healthy fast food.
With this in mind I'll be whipping up a batch of these nut butter cookies. They're so easy and quick to make that I can make them in the evening, even when I've little time to spare.
Nut butters
The wide array of nut butters now on the market is fantastic. If you're a die-hard peanut butter eater then try mixing it up a bit, especially as peanuts are linked with a mould called Aspergillus flavus that produces a carcinogenic toxic chemical called aflatoxin. Processing techniques have all but eliminated this toxin from peanut supplies now but the risk remains and it's a good reason to try some tasty alternatives. Also if you're not a fan of peanut butter, give some of the other options a try as the tastes are really different and you're sure to find one you like. In the recipe below the nut butters are quite interchangeable so if you don't like or can't find one, just swap for another.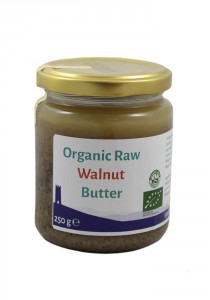 Health benefits
The benefits of nuts get a lot of press at the moment, and rightly so, containing heart-healthy monounsaturated oils that protect those with the 'Mediterranean diet' from disease. Walnuts are one of the best of the bunch, with one of the highest ratios of omega-3 to omega-6 oils – we all need more omega-3 oils in our diet. Be sure to keep walnuts, and all your nut butters, in the fridge as the heat-sensitive unsaturated oils are prone to degrading and then the health-promoting properties are lost.
Good fats aside, nut butters also provide a great, easy source of protein in your meals and snacks. They work really well added to smoothies, enjoyed with fruit as a snack, or used to top a pancake!
How to buy nut butters
With the rise in nut butter popularity there is, of course, a variety of different product qualities available. Here are a few important things to look out for:
Check the ingredients – there is absolutely no need for any added sugar or, actually, any added anything in your nut butter. The ingredients should be 100% the nut on the label.
Look for raw or 'cold-pressed' nut butters – roasting or heating the nuts during manufacture will destroy all the phyto-nutrients naturally occurring in the nuts.
Consider organic – it might be pricier but an organic nut butter will ensure there are no nasty chemicals lingering in your product.
Recipe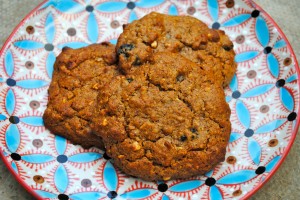 INGREDIENTS | makes 10-12
1/2 cup (100g) walnut butter (stir well)
1/2 cup (100g) crunchy almond butter (stir well)
1/4 cup (75g) runny raw honey
1 large egg
1/4 tsp vanilla extract
1/2 cup (75g) dried cherries
1/4 cup (25g) oats
1/4 cup (25g) desiccated coconut
1/4 tsp baking soda
Pinch fine grain sea salt or pink Himalayan
METHOD
Preheat oven to 160oC and line a baking tray with baking parchment.
Add the nut butters and honey to a large bowl and stir well to mix.
Add the egg and vanilla extract and beat in to the mix.
Scatter over the cherries, oats, coconut, baking soda and sea salt and stir to form a thick, sticky dough.
Dollop spoonfuls of dough onto the prepared tray and shape into flatish round cookie shapes with a spoon. Leave space between them to allow for spreading.
Place in the oven for 10-12 minutes or until nicely golden.
Remove from the tray with a spatula and cool on a wire rack. They may still be bit soft but they will harden a little on cooling.
Enjoy these delights warm with a dollop of coconut yogurt or cool as a handy healthy snack to have on the go. And share them with your friends to try to resist eating them all at once!