If there is a single one of my recipes that I go back to time and time again, it's this one. So tasty, balanced, nutritious and packed with energy making it a perfect speedy pre-workout drink. Let this become your regular smoothie too.
The thing I love about this recipe is that it provides such a healthy, well-rounded and long-lasting hit of energy. I don't have it every day, it's usually saved for occasions when I have a morning workout. If you're anything like me, you've probably experienced and disliked the jelly-legs syndrome from trying to run without any fuel inside you. You can't drive a car without fuel in the tank, so don't do the same with your body!
I have even been known to set my alarm especially early, an hour or two before an exercise session, to get up and make this smoothie and give it time to settle in me (sometimes I even go back to bed in between – shh, don't tell anyone! It works for me anyway).
So why is this smoothie so great before a workout? It has great sources of protein from the almond butter, maca, and protein powder, healthy fats in the form of coconut oil, and carbohydrates in the oats and banana to give short and longer term energy provision. It also features chia seeds, perfect pre workout thanks to their tendency to hold on to water, so providing long-lasting hydration.
Be aware that, with the addition of chia seeds, as well as the ground flax seeds, this smoothie will thicken further after being made. The ground seeds continue to absorb water, making the consistency thicker as times goes on. As such, I'd recommend drinking straight away, leaving out the seeds, or making sure you have a spoon to hand!
I feel that I must also mention the cacao, since it's in the title! Cacao is fast becoming the latest well-known 'superfood'. It is produced directly from unroasted cocoa beans. Being raw, unlike the more familiar cocoa powder, means that it retains all of the nutritional value – packed with minerals and high in antioxidants. It is even known as a mood booster. Once you have some in the cupboard – try making my fantastic cacao snack bar too.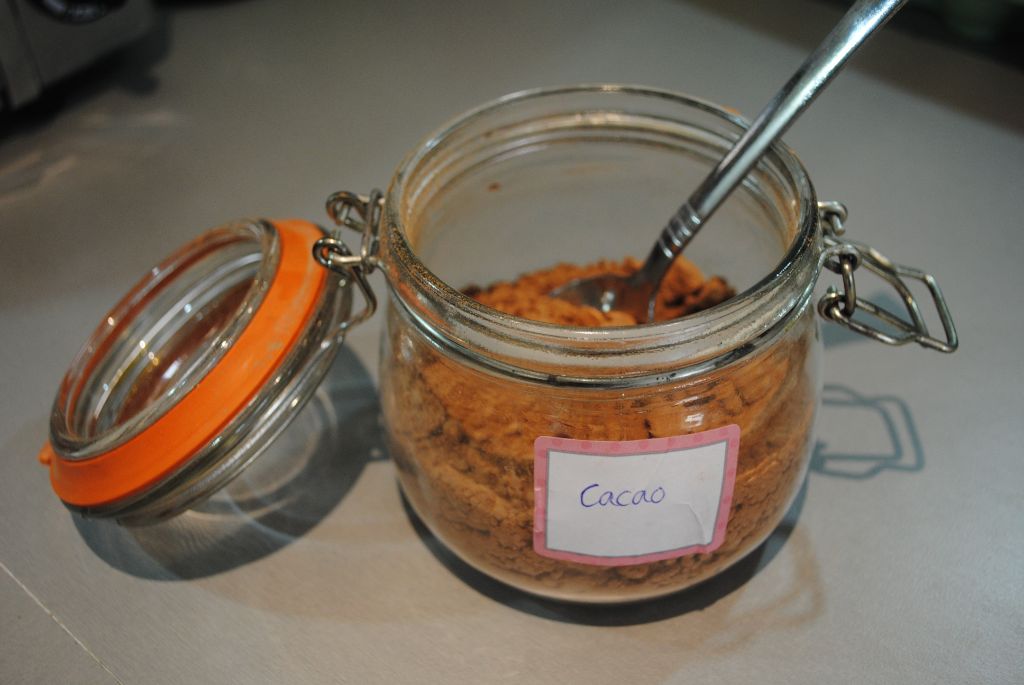 What other time might you enjoy this drink? Anytime you want a fulfilling breakfast to keep you going all through the morning. If you have a lifestyle that zaps your energy, this is a full meal in a glass that is really satisfying and sets you up perfectly for the day. It's also great after a workout of course.
This is the recipe for the Cacao power smoothie exactly as I like it; but, as I would encourage with any smoothie recipe, be flexible and make it as you like it.
I would love to know if you enjoy this smoothie as much as me and find it a useful quick (and essential) breakfast for action-packed mornings. Leave your comments below or tweet me to let me know.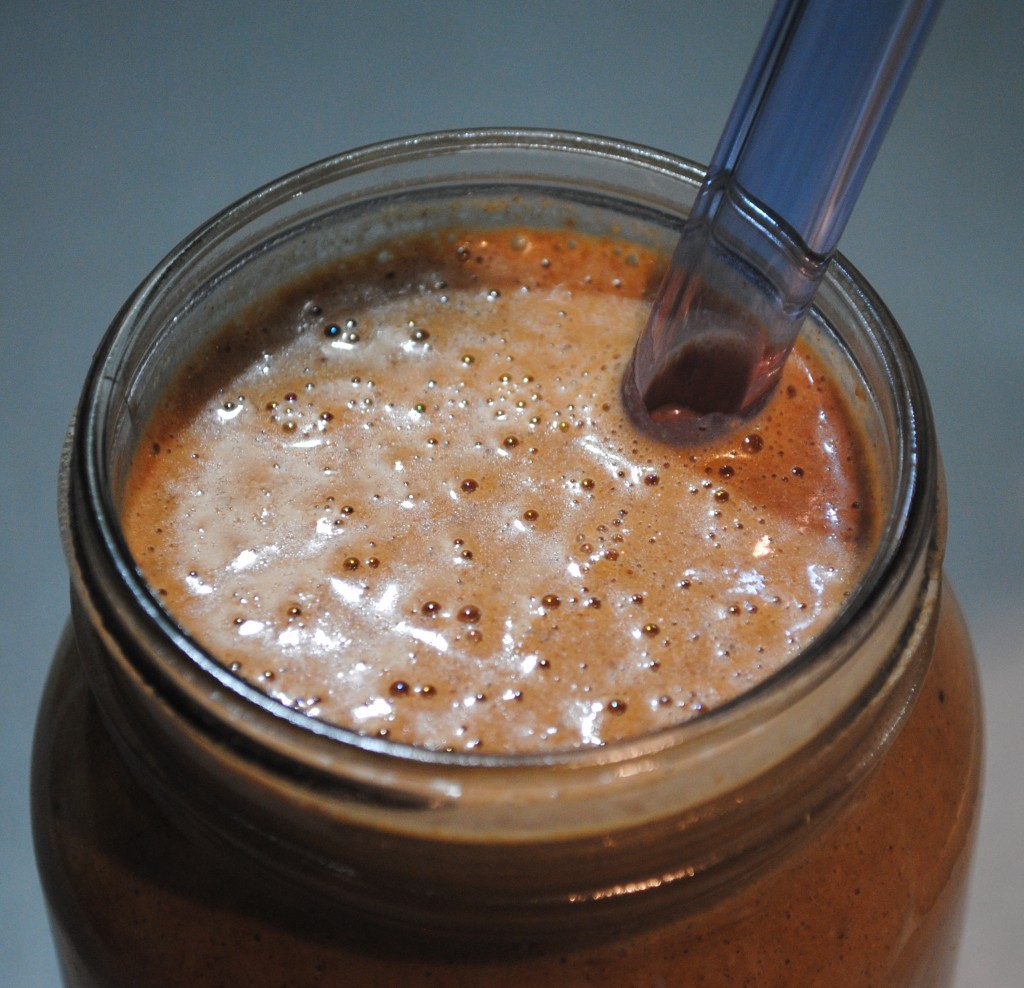 INGREDIENTS   |  serves 1
1 1/2 cups almond milk* (make your own or get one without any nasty additions)
1/2 frozen banana
2 tbsp oats
1 tbsp almond butter*
1-2 tsp ground cinnamon
1 tbsp raw cacao powder
1 tsp maca powder
1-2 tsp coconut oil
1/4 cup spinach
1/2 tbsp chia seeds
1/2 tbsp ground flax seeds
1/2 tbsp hemp protein powder
pinch sea salt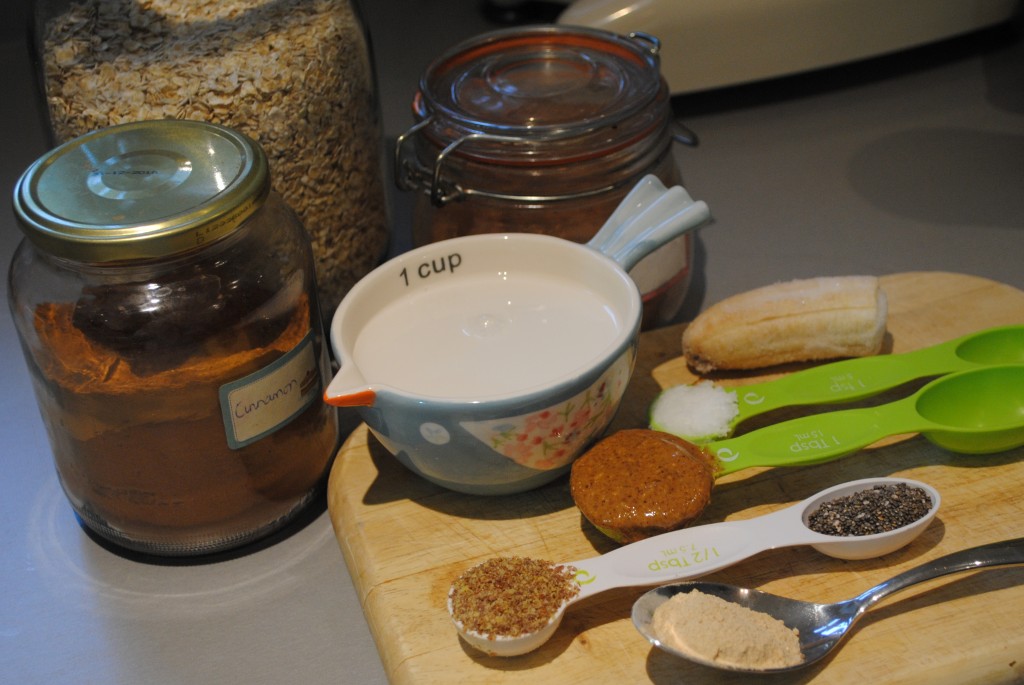 METHOD:
Put all the ingredients into a high-speed blender and pulse then blend on high until well mixed.
If using a weaker blender, you may need to chop the banana into smaller chunks and give it a blend with some almond milk before adding further ingredients.
If the smoothie seems a bit too thick for your taste, simply add a little more water.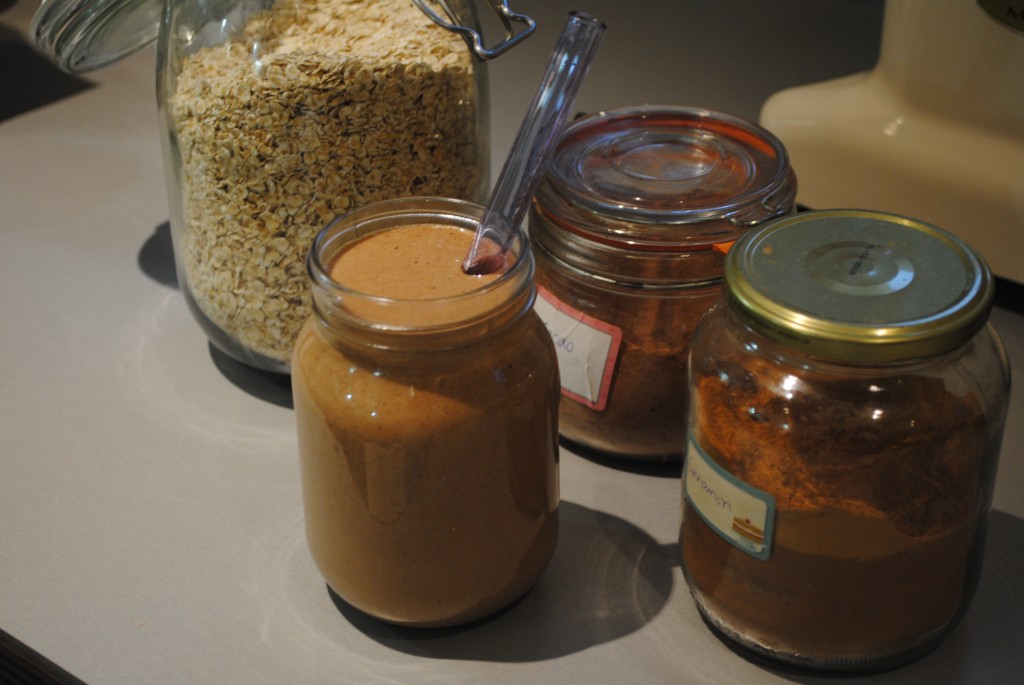 *P.S. Need to go nut-free? No problem. Leave out the almond butter or substitute with tahini paste and swap the almond milk for hemp seed milk or rice milk.