If you think home baking is only for those with a store cupboard full of ingredients, recipe books, complex utensils and time on their hands, these super-easy flapjacks I invented and cooked in my holiday apartment prove that all wrong!
I write this post from my aeroplane seat on the way home from a week's holiday in Lapland, Finland, where I have spent the week skiing and enjoying the vast amounts of snow! Scroll down for the recipe or linger here to read some tips on how you can enjoy the great potential of a self-catering holiday that I have enjoyed this week.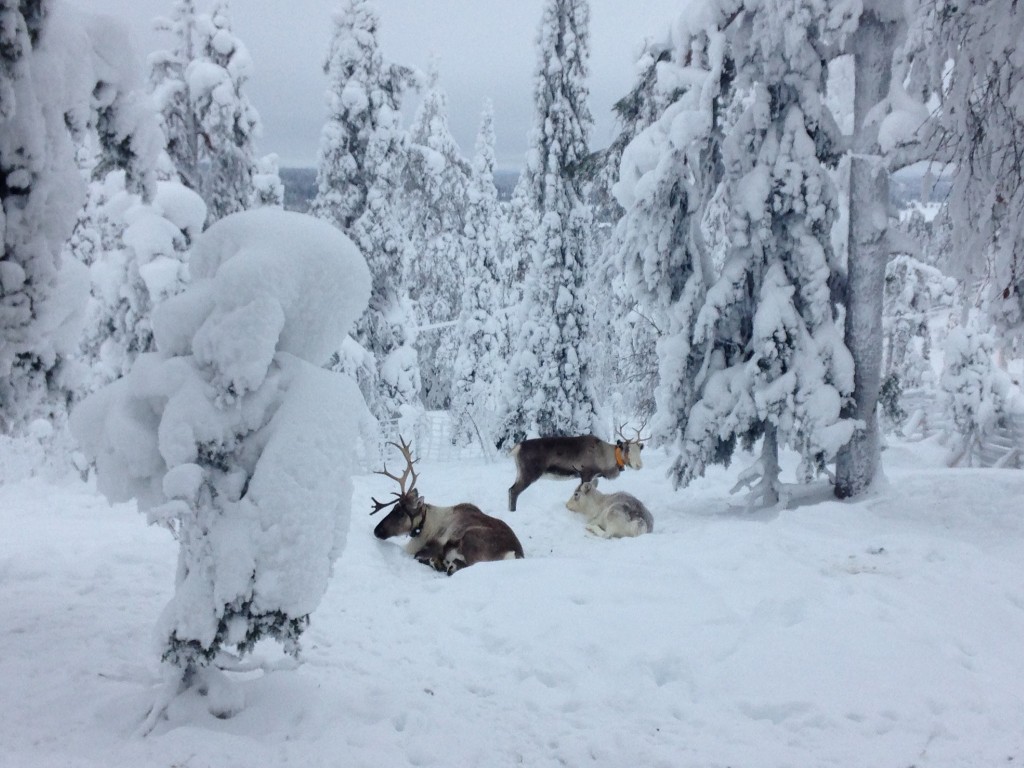 Being a person who cares a lot about what I put in my body, I can sometimes find dining out a little tricky. As such, going self-catering is a great option for me as it allows me to do my own food shopping and select all the fresh raw ingredients I love and that will fuel me well. I also know exactly what has gone into the meals I eat.
This does not mean that my holiday was not a nice opportunity to indulge in some culinary delights,  I did, but they may not have been your conventional options and, sometimes, our interpretation of a 'treat' needs a little contemplation.
I am not good at passive holiday-ing! I do take the opportunity to sleep for as long as my body feels it needs, without the need for a morning alarm, and enjoy taking long lunch breaks and sitting with my book and a warming mug of ginger tea, but overall I enjoy holidays with plenty of activity. With this in mind, it is really no good for me to wake up with a fuzzy head from poor food and drink choices the night before or stomach cramps in the afternoon from something I ate earlier or because I haven't been able to "go" since landing from the outbound flight! Nor is it ideal if I end up feeling lethargic throughout the day because of sending my blood sugar levels on crazy spikes. You may be reading this thinking "but eating and drinking whatever I feel like is what makes it a holiday – it's a chance to let go", and maybe that works for you, but, for me, for the reasons above, there is a definite compromise to be had. To me, a 'treat' should not be something that makes me feel unwell soon after.
We ate some fantastically delicious meals that we made ourselves in our little hotel apartment. Breakfasts were mostly whole-grain porridge (oats, cinnamon, apple, water, butter and a little honey), dinners included chilli tacos, stuffed peppers and veggie pasta, and lunches were usually leftovers from the previous night's meal or eggs and smoked salmon. I like to think we dined luxuriously!
If nothing else has convinced you yet to watch what you eat on holiday, you also don't want to end up getting ill as soon as you get home after depriving yourself of essential vitamins and minerals and becoming dehydrated by the air-conditioning on the flight home; not to mention the excellent cost-saving you'll experience!
My top tips to ensure you don't lose out on flavour or succumb to overly processed (and so nutritionally depleted) ready-made sauces or meals if you go self-catered include the following:
Take a few essential items with you from home to save money and ensure you have some bits that you may not find in the shops while on your hol – I took some gluten-free pasta, a variety of herbal tea bags and some homemade gluten-free bread. Some coconut oil would also be a great choice, doubling up as a moisturiser. You could, of course, take more items, including some of the those suggested below, but it depends what chance you have to get organised before you leave.
Buy a mix of spices and a mix of herbs. This saves buying numerous jars and adds great flavour to any meal and promotes it to another level.
Ensure you have seasoning. It may seem annoying to buy a whole pack of salt but meals without seasoning certainly lack oomph, and a bland home-cooked meal will be the first thing to make you grab the takeaway or room-service menu.
Stick with the seasons and local produce if possible. You may LOVE spinach with your scrambled eggs but if you're in a wintery ski-resort you may find that the spinach costs a LOT of money and is not the most environmentally friendly choice. Looking at the prices will provide the biggest clue but a bit of common sense helps here as well. Root vegetables may be the better choices in winter but see what you can find and do what you can.
If you feel like dining out, save it for later in your holiday when you've had chance to get the word on the street about the best restaurants and checked out the menus in a few places to see what the best choice will be for you.
So I encourage you, next time you book a holiday, to consider your opportunities to self cater. Make sure your accommodation has a reasonably equipped kitchen (a microwave won't cut it!) and a nearby shop or market for buying a selection of produce. You may think cooking is too hard and a holiday is your opportunity to rest, but I prefer to think of meal creation as being a fun and sociable part of the trip.
As a result of all this fun in the kitchen, it came to the day before our departure home and we had a few items leftover in the kitchen that we didn't want to see go to waste. They were screaming out for an obvious, and delicious, baking choice! Flapjacks.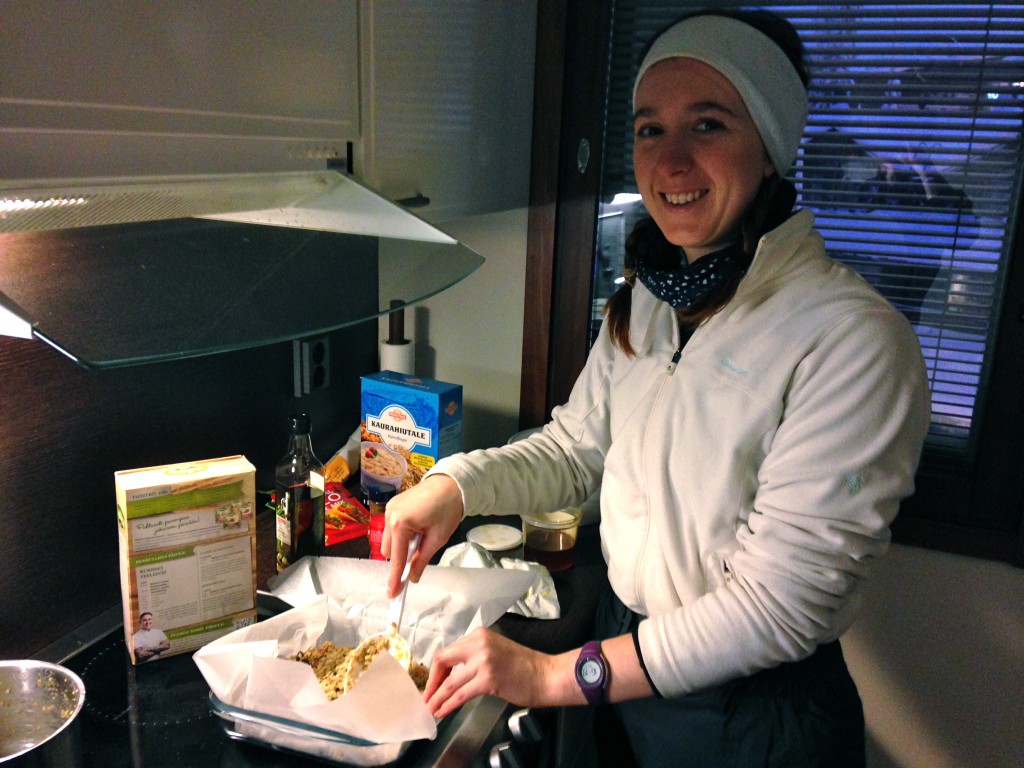 Considering that I spent my holiday reading a book about the great benefits of ditching sugar (yes that is my idea of fun!), I am obliged to remind you that anything with such sweetness as flapjack, whether it's sweetened by honey or white sugar, should be eaten in moderation. It is not "healthy", just slightly better than the alternatives you may find at the airport terminal or on the plane (donuts in my case).
So if you find yourself in the same position as me with the leftovers, or if you just fancy a really easy and quick bake you can take to work to snack on in the week or slip into your child's lunchbox, give this recipe a try. The key with using up leftovers is to be experimental and I encourage you to do just that with whatever ingredients you have to hand. Leave your comments below to let me know how you get on with the flapjacks or to share how you have found the self-catering option on your holiday.
INGREDIENTS:
1/2 cup butter
1/3 cup honey
2 tsp ground cinnamon
pinch of salt
1-2 cups whole oats
1/2-1 cup mixed dried fruit and nuts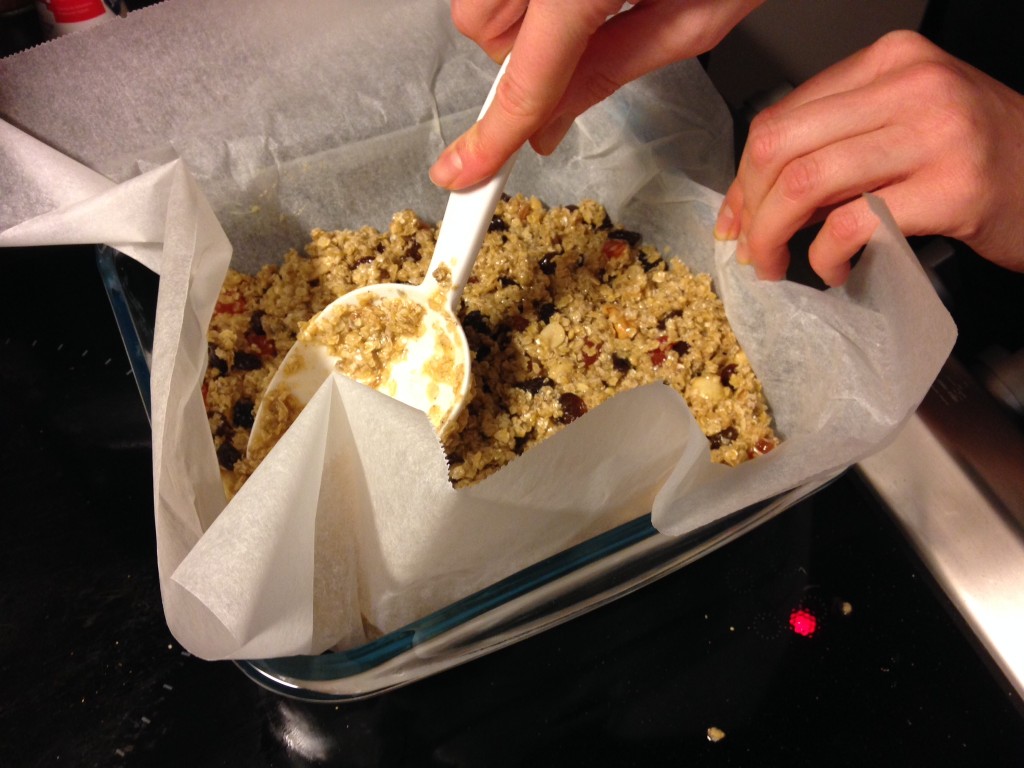 METHOD:
Preheat the oven to 180oC or 350oF.
Melt butter and honey together gently in a saucepan. Once melted, remove from the heat.
Add cinnamon and salt and stir to combine.
Add oats a bit at a time and stir until they are all coated in the honey mix but not too wet or too dry.
Add as much of the dried fruit and nuts as you like. The nuts are an important addition to go some way to providing some extra fat and protein to slow down the absorption of all that sugar you are consuming in the form of honey.
Pour the mixture into a greased tin or glass dish (we even found some parchment paper in the cupboard to line the dish so you may wish to use some too if available). Spread out and flatten with the back of a spoon.
Place in the preheated oven for approximately 30-40 minutes, or longer if you like it crunchier. Keep an eye on it. Bear in mind that it will harden a little more as it cools.
Remove from the oven and place the dish on a cooling rack. Turn out on to a board and slice into squares before it cools fully or it will be more difficult to cut when completely cold.
Enjoy with a cup of tea, pack up for your next journey and try not to have too many at once!