Try these lip-smackingly good marinated and grilled skewers topped with moreish almond satay sauce. They are a guaranteed crowd pleaser and no one will guess just how healthy they are!
I created this recipe with a craving for a meal that had a good bit of chew! Some vegetable-packed meals can have a tendency to be quite soft, but not this one!
This dish can equally easily be made vegetarian (vegan, actually) or not depending on your preference. If you decide to include the chicken, do choose a great quality locally-reared organic chicken breast to make sure it is healthy and ethical. There's even an easy way to may this dish nut-free. Thanks to the nutty sauce, you will be taking in a good hit of protein with or without the meat included, making this a nutritionally balanced meal (every meal should feature a good source of protein, as well as healthy fats).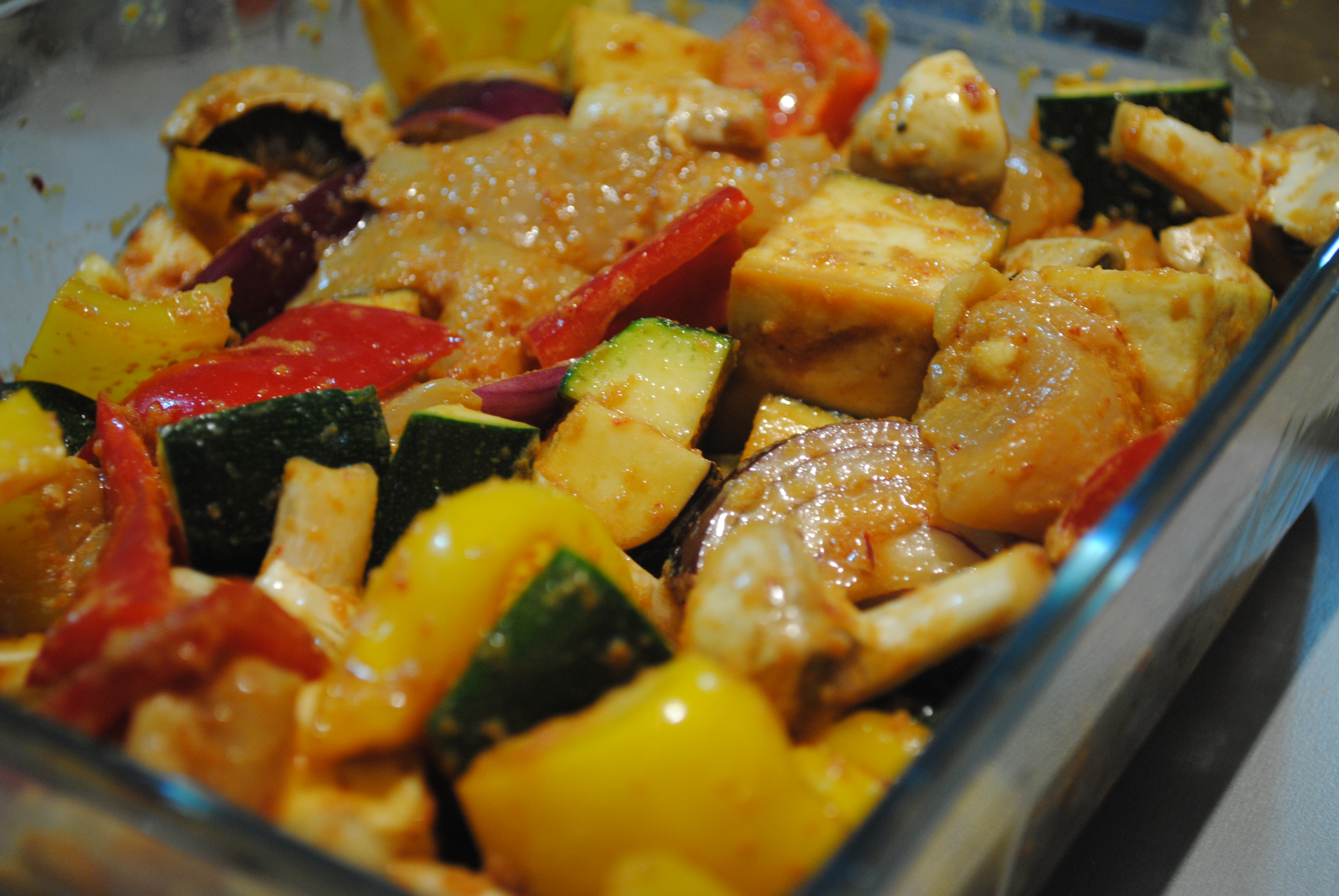 The recipe for these skewers has gone through a great evolution and, without me knowing it, has been bubbling away in the back of my mind for many years! Barbequed chicken kebabs with peanut satay sauce have been a staple summertime favourite of my mum's cooking repertoire for a long time, but it never appealed to me. I have only recently begun eating the occasional meal with meat to help boost my nutritional health. However, the satay sauce always smelt great and was very popular with my family.
So it occurred to me, why not transform my mum's recipe a little into a healthful delight by adding in a rainbow variety of crunchy vegetables, subbing in gluten-free ingredients and upgrading peanut butter to the more healthful (and tastier in my opinion) almond butter.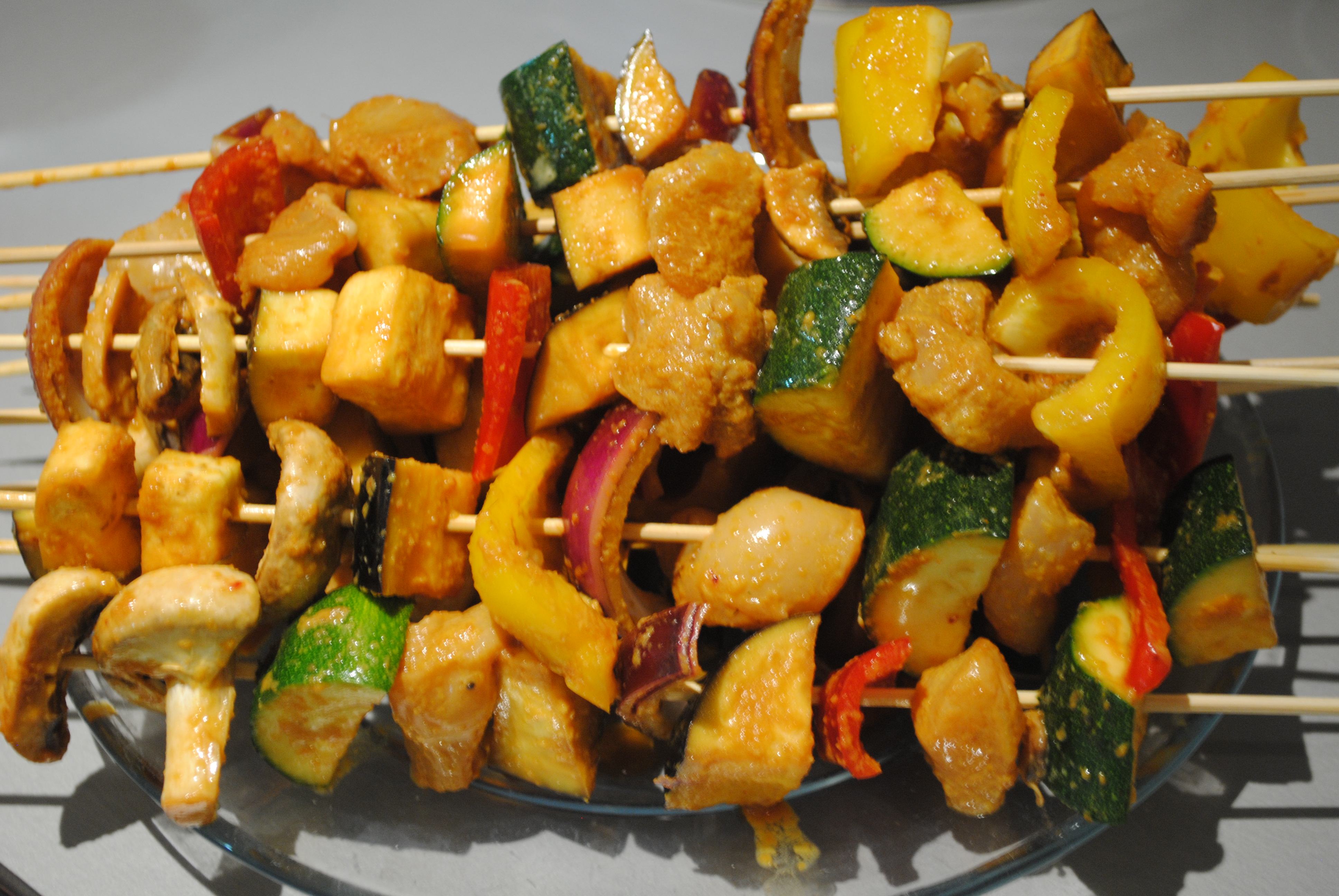 I recommend serving the skewers on or off their sticks with a generous helping of almond satay sauce poured over the top and optional extra sauce on the table. It is so yummy you might want to go back for more! It goes well with some roasted sweet potato wedges and steamed greens.
Please give it a go, I'm sure you'll enjoy! Comment below to let me know what you think.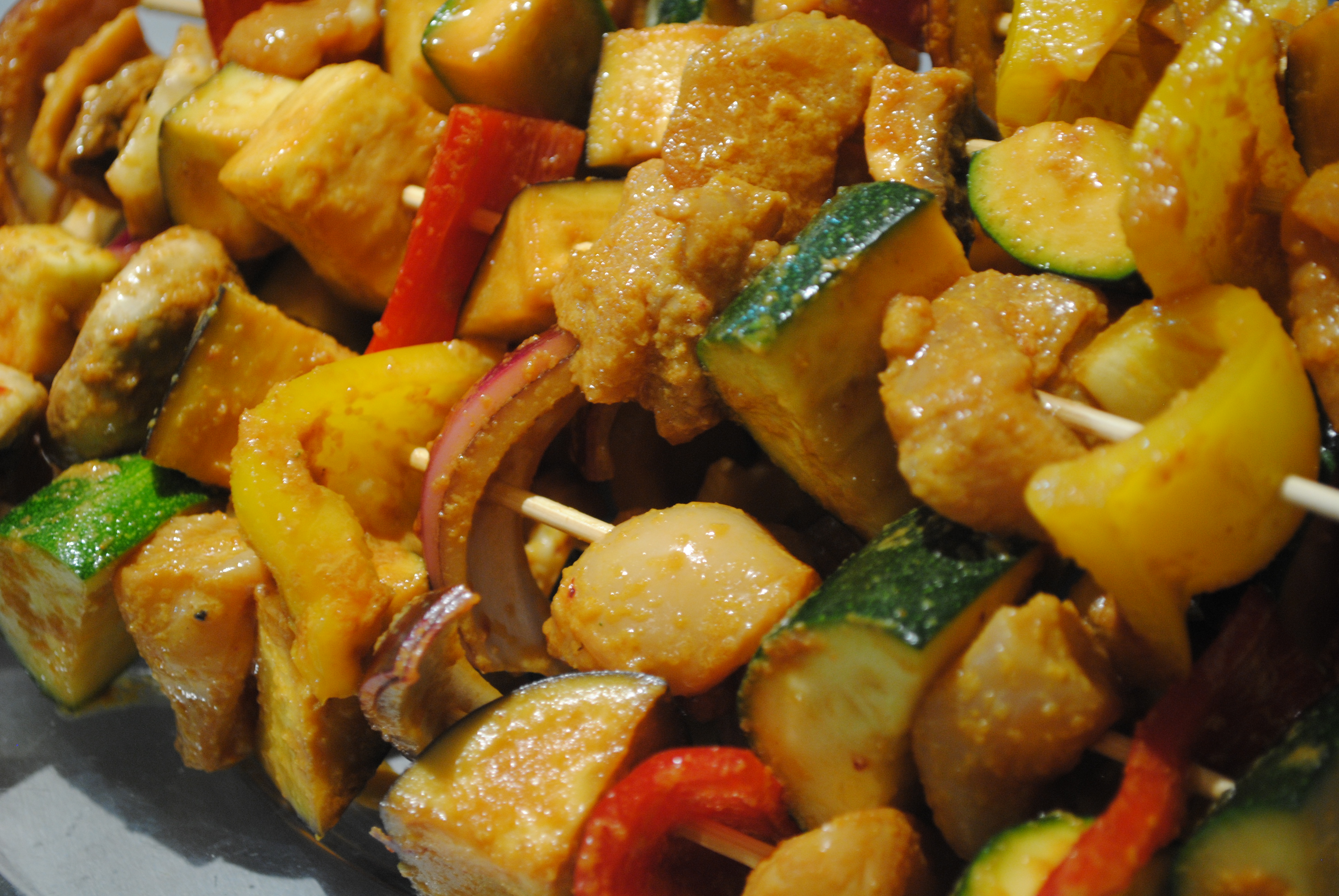 INGREDIENTS   |  serves 3-4
1/2 aubergine
1 courgette
1 cup mushrooms
1 red bell pepper
1/2 red onion
2 organic chicken breasts (optional)
Marinade:
1/2 red onion, roughly chopped
1 inch piece ginger
1 garlic clove, crushed
4 tbsp lime juice
4 tbsp tamari
1/2 tsp turmeric
1 tbsp extra-virgin olive oil
Sauce:
4 tbsp almond butter (can replace with 5 tbsp tahini paste to make it nut free)
1/2 cup coconut milk
few drops organic chilli sauce
1 tsp grated lime zest
1.5 tsp raw honey (or maple syrup to make it vegan)
METHOD
If using wooden skewers, soak in water to avoid burning under the grill.
Add red onion for the marinade to a food processor and blend until fine. Add remaining marinade ingredients and blitz.
Chop the vegetables (and chicken if using) into bite size chunks and spread out in a shallow dish
Pour marinade over the vegetables (and chicken) and stir to coat well.
Place in the fridge, covered, for a minimum of 30 minutes but up to 24 hours to really let the flavours infuse.
When ready to cook, preheat a grill to a medium temperature; not too hot or they could cook on the outside without being cooked through. Alternatively these could be cooked on a BBQ stove.
Slide the vegetable chunks (and chicken) onto the skewers, mixing them up to provide a good variety on each stick.
Place under the grill for approximately 10 minutes but keep an eye on them. You may wish to use some foil in the grill pan to catch the drips.
While they are cooking, pour the remaining marinade into a small saucepan and bring to the boil, boiling for a couple of minutes (especially important if raw meat had been in the marinade).
Add the remaining sauce ingredients to the pan and turn the heat to medium. Simmer and stir until the sauce turns nice and glossy. Set aside.
Turn the skewers over and cook for approximately 10 minutes more, checking often and turning again if necessary. Turn up the heat on the grill for a minute or 2 at the end if you want to crisp the outsides a bit. Ensure the chicken is cooked through.