As the nights draw in, the temperatures drop and the rains set in, autumn is on its way and I begin to crave warming, comforting meals. This soup makes a great lunch or even a delicious sauce to enjoy with whole grains for a dinner.
I really love the warm spices and creaminess of a dahl. It can be enjoyed in a variety of ways with different textures and ingredients. A dahl, with its base of pulses, most often split lentils, is a great and tasty way of creating a balanced meal with good sources of protein, fat, carbohydrate and fibre. This balance means that the dahl is a perfect dish for helping to balance blood sugar levels and promote optimal health.
Lentils are an excellent source of molybdenum and folate. They are a very good source of dietary fibre, copper, phosphorus, and manganese. Additionally they are a good source of iron, protein, vitamin B1, pantothenic acid, zinc, potassium, and vitamin B6.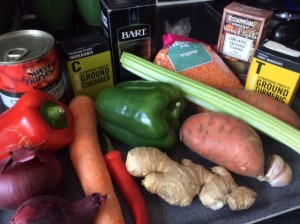 Lentils are actually an incomplete source of protein, however, as they are very low in some of the essential amino acids. So a great thing to do is to have this dahl with some brown rice. Rice isn't a complete protein either, but the combination of rice with lentils does provide you with the complete range of essential amino acids that the body can't produce itself.
This soup is easy to make and really satisfying. It's also one of those dishes that tastes even better the day after making it when the flavours have really infused, so enjoy the leftovers! It freezes well too so you could always double the measures and stock up for some easy ready-made nutritious meals.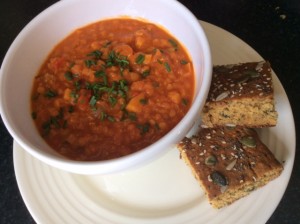 INGREDIENTS   |  serves 4 as a main meal
Prep time: 15 minutes; Cook time: 30 minutes
1 tbsp rapeseed oil
1 red onion, chopped
1 clove garlic, crushed
1 inch ginger, finely grated
1 tsp each ground cumin, coriander, turmeric
1/2 to 1 red chilli, finely chopped (optional)
1 medium carrot, chopped
1 bell pepper, chopped
1 small sweet potato, peeled
1 stick celery, chopped
1 cup dry red lentils
1 tin chopped tomatoes or 1 jar of passata (680ml)
750ml boiled water
50g creamed coconut (1 sachet), roughly chopped
1-2 tsp sea salt or to taste
Pepper to taste
Juice of half a lemon (about 1 tbsp)
Fresh herbs to top, chopped (eg coriander, chives, parsley)
METHOD
Before you begin cooking it's a good idea to chop all the veg (onion, carrot, pepper, sweet potato, celery) – it often makes the process quicker altogether. Chop everything to a similar size – approximately 1cm or a bit smaller.
Heat oil in a large saucepan on a medium heat.
Add onion and put lid on. Sauté for 5 minutes, stirring regularly.
Add garlic, ginger and spices and stir well. Cook for 1 minute.
Add chilli and vegetables and stir to combine with the onion and spice mix.
Add lentils, tomatoes/passata, salt and water (start with the 750ml of water but you may wish to add more later depending on desired consistency).
Cover with lid and simmer for 20 minutes, stirring regularly.
When the lentils are soft, stir in the chopped coconut until it melts. Add extra water if the soup is too thick for your liking.
Add lemon juice and check seasoning – add more salt and pepper if desired.
Ladle out into big bowls and top with some fresh herbs, such as coriander or chives.