Salad sometimes gets a bad rep. Boring. Lettuce. Limp. Unfulfilling. Let's get all the insults out there. Because none of them apply to this salad. This is a feast of a salad.
When I have a salad it is large and FULL of delicious ingredients and a lovely variety of flavours and textures to tempt the tastebuds.
So I wanted to share with you one of my favourite salad recipes so you can see how exciting and yummy they can be. This is what I call a treat.
5 tricks for making a salad GREAT:
Something warm – I really like the combination of hot and cold. A little bit of something warm in a salad is delicious.
Something fruity – salads are at their best in the summer months when the sun is out, and this means there's also the tastiest sweetest fruit available that compliments the subtle bitterness of a leafy salad really well.
Fat – this helps to make sure the salad is filling and won't leave you hungry again soon after eating it. Salads are a great opportunity to eat the unsaturated oils that need to be eaten raw because they degrade on cooking, eg flax oil, hemp seed oil, walnut oil. You can also get great fats from nuts, seeds and avocado.
Protein – similar to the point above, a good source will keep you feeling full. Not to mention the fact that every meal throughout the day should definitely  feature protein. Protein is so vital to every reaction in your body.
A tasty dressing – and this doesn't have to be complicated. Sometimes it can be as simple as a drizzle of oil and a squeeze of lime. But a good dressing can really make a salad and elevate it to a whole new level!
So give it a try. Here's my recipe for a feast of a salad with courgette noodles.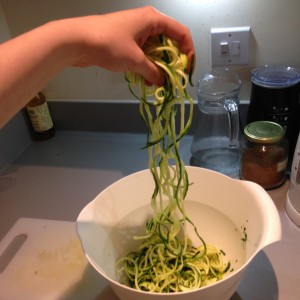 You can consider the ingredients here to be a list of suggestions. The great thing about a salad is that it is very flexible – to changing seasons, budgets, taste preferences and whatever happens to be in the fridge. As mentioned above, one thing that really elevates a salad to new heights is a good homemade salad dressing. I'd definitely recommend you steer clear of ready-made dressings. Sauces are one of the easiest and worst unhealthy traps to fall into, often containing too much salt, sugar and additives to achieve the man-made colour and texture that is perceived to be 'correct', with less thought for nutritional value. If making a dressing is just one step too far for you on a busy mid-week night, however, a drizzle of extra virgin olive oil and a squeeze of lemon will definitely do just fine and only take an instant.
INGREDIENTS
Prep time: 5-10 minutes
1 large sweet potato or 1/2 a small butternut squash, chopped to 1cm cubes
2 eggs
1 large courgette (or 2 small)
1 carrot, grated
2 cups rocket leaves
1/2 cup red cabbage, shredded finely
1/2 red pepper, chopped to 1cm cubes
1/2 cup cherry tomatoes, halved or quartered
1/2 cup toasted walnuts
1/4 cup fresh or dried apricots, roughly chopped
1/2-1 avocado, chopped
2 tbsp pumpkin seeds
Dressing:
5 tbsp tahini
5 tbsp water
1/2 tsp maple syrup or runny honey Juice of a lime (1-2 tbsp)
sea salt and cayenne pepper, to taste
METHOD
Place the sweet potato cubes into a steamer and steam for 15-20 minutes or until softened.
Put the eggs into a pan of water, bring to the boil then boil for 5 minutes. Remove eggs, cool to the touch then peel off the shell and slice into quarters or sixths.
Run the courgette through a spiralizer to make courgette noodles, or use a julienne peeler to create thin strips, or slice into long sticks very finely.
To make the dressing, add all ingredients to a bowl and stir thoroughly to mix. Add a dash more water if you prefer a thinner consistency.
Assemble all the remaining ingredients then add the sweet potato and eggs on top. Serve with the dressing or just use extra virgin olive oil and a squeeze of lemon juice.