Trips to Morocco and Cyprus inspired the flavours in this dish. The sweet peppers really complement the warming spices of the lentils and tangy tahini dressing. And the best thing? It looks impressive but is actually very easy!
A few years ago I went to Morocco and have also visited the Turkish parts of Cyprus. The spices, fresh ingredients, use of lentils and sesame seed paste in their cuisines make for a delicious meal.
I have wanted to use a herb and spice mix called za'atar in a recipe for a little while after discovering it in a favourite Lebanese cookbook. I met Tony Kitous, the passionate author of the book, at a foodie event a while ago and he is such an advocate for good fresh ingredients. Using fresh and dried herbs and spices has real potential to lift dishes to another level in terms of flavour.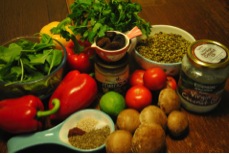 This dish features great plant sources of protein, with lentils and sesame seeds throughout. These are also quite high in zinc which, being a key component of many enzymes needed in cellular processes, is important for a strong immune system. The pepper, parsley and lime provide vitamin C – which we all need to boost as the winter-cold season sets in. The coconut and olive oils provide healthy fats to promote hormone balance.
In the recipe I suggest soaking the lentils for 4-6 hours or overnight. This isn't essential, so if you forget, go ahead, it won't be a massive problem. However, soaking reduces the cooking time – you might find you need to add a little more water and/or increase the simmering time if you don't pre-soak – and a soak and rinse improves the digestibility of legumes (you know the line…beans, beans, good for your heart…).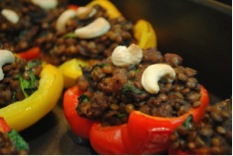 I'd love to know what you make of the recipe. I think it ticks all the boxes. Sweet, spicy, herby, tangy, comforting and a bit of crunch from the cashew topping too. So give it a go. Get playful. And comment below to let me know how you get on. Take a pic and tag me @veggiesuperpowers on instagram or @veggiepowers on twitter. Can't wait!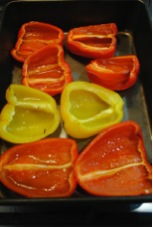 INGREDIENTS  |  To serve 4
2 tbsp coconut oil
4 tsp za'atar herb and spice mix (see below)
1 tsp smoked paprika
1 cup lentils, soaked for 4-6 hours or overnight, drained and rinsed (or unsoaked if necessary)
6 tomatoes, chopped
1 tbsp tomato purée
3/4 cup water
4 bell peppers
1 tbsp extra virgin olive oil plus a little extra for drizzling
1/4 cup dried apricots, chopped (sulphite-free)
1-2 cups mushrooms, chopped
3 cups spinach (or 3 good handfuls)
1/4 cup raw cashews
1/4 cup parsley, chopped
Za'atar (to make a batch):
2 tsp sesame seeds
2 tbsp mixed herbs
1 tsp sumac (spice)
pinch of sea salt
Tahini dressing:
5 tbsp tahini
5 tbsp water
Juice of a lime (1-2 tbsp)
sea salt and cayenne pepper, to taste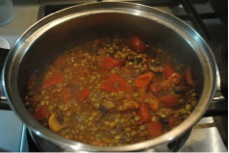 METHOD
Preheat oven to 180ºC or 350ºF.
Make your batch of za'atar: Toast the sesame seeds for 1-2 minutes in a hot pan, tossing and watching constantly to avoid burning. Grind thoroughly with pestle and mortar, along with herbs, sumac and salt. Alternatively, grind with a spice grinder or coffee grinder.
Melt coconut oil in a medium size pan. Add the 4 tsp za'atar mix and paprika to the oil and heat, stirring for 1 minute.
Add the tomatoes and cook on a medium heat for a few minutes until they start to break down.
Add the lentils, water and tomato purée to the pan, stir and simmer, covered, for 15 minutes, stirring every so often.
Meanwhile, slice peppers in half as equally as possible and remove stalk and seeds.
Lay on a baking tray, insides up, and drizzle with olive oil.
Place in pre-heated oven for 15 minutes then remove and set aside.
After the lentils have simmered with the lid on for 15 minutes, remove the lid from the lentil mix and stir in the apricots and mushrooms. Simmer for a further 15 minutes or until the water is absorbed. If the mixture still looks wet, increase the temperature towards the end of the cooking time to boil off more liquid.
Taste lentil mix for seasoning – add salt if necessary. Turn the heat off then stir in the spinach.
Spoon the mixture into the pepper halves. If there is any mix left over you can serve it along side the peppers later.
Add cashews to the top then place the now-stuffed peppers back into the oven for 10 minutes or until the nuts are lightly toasted.
While the peppers are in the oven, chop the parsley and make the tahini dressing:
Add tahini to a small bowl, add the water and stir in thoroughly. Add the lime juice, a pinch of salt and a dash of cayenne pepper. Stir well then taste for seasoning and adjust as necessary.
Remove peppers from the oven, top with a generous sprinkling of parsley and pour over some tahini dressing.
I recommend serving this with steamed greens such as broccoli or kale, and, if you're hungry, some roasted sweet potato wedges or butternut squash.