This week is National Vegetarian Week! Of course you don't need to be veggie to take part and, maybe it's better if you aren't. Use this week to explore the wonderful tastes and textures of veggie food, starting with this satisfying burger.
Eating vegetarian food brings lots of benefits: to your health, your bank balance, animal welfare and the environment, to name just a few. With the rise of initiatives like Meat Free Mondays, more and more people are enjoying these benefits without needing to commit to a 100% vegetarian diet. If everyone ate a bit less meat, our world would be a much better place.
The term "veggie burger" may not summon up the most exciting images in your mind, but this is a burger unlike the veggie burgers you may have experienced before. Easy to make, full of flavour, protein rich and nutritious, leaving you fully satisfied after enjoying this yummy comfort food with all its trimmings. Plus, it's a great meal for the whole family, especially if you can get your children in on the making – they'll love it.
Give it a go for National Vegetarian Week this week and comment below to let me know what you think!
INGREDIENTS | makes about 12; serves 4-6
1/2 cup dried quinoa (soaked for a few hours if possible)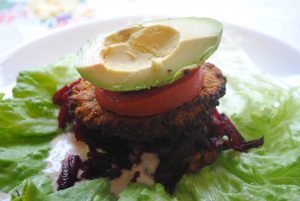 1 cup water
2.5 cups sweet potato, peeled and chopped (about 2 small potatoes)
2 tbsp rapeseed oil (or sunflower)
1 onion, diced
2 cloves garlic, finely chopped
1 tbsp frozen ginger (or about 1/2 tbsp fresh ginger, grated)
2 tsp ground cumin
1 tsp dried oregano
1/2 tsp fine grain sea salt or to taste
Pinch black pepper
1/4 cup quinoa flour (or chickpea flour would also work well)
2 cups kale, roughly chopped
1/4 cup sundried tomatoes, chopped
Tahini dressing:
5 tbsp tahini
5 tbsp water
Juice of a lime
Sea salt and cayenne pepper, to taste
METHOD
Preheat oven to 200C.
Rinse and drain the quinoa so there is no soapiness coming off.
Add to a small saucepan with the 1 cup water.
Bring to the boil then simmer very gently for 15 mins. If the water isn't quite absorbed, turn up the heat for the last few minutes. Remove from heat and leave to cool.
Meanwhile, peel the sweet potatoes and steam for 20 minutes or boil for 15-20 minutes until soft, and drain. Set aside.
Heat the oil in a pan and add the onion. Stir often so it starts to soften. After a few minutes add the garlic and ginger. When the mix is nicely softened add the cumin and stir to coat and fry the spice for 1-2 minutes then turn off the heat when smelling fragrant. Set aside.
Now combine all the elements (except the sundried tomato) in a food processor: quinoa, sweet potato, onion mix, herbs, salt, pepper, quinoa flour and kale. Blend until all chopped and well combined. Empty into a largemixing bowl.
Stir in the chopped sundried tomatoes.
Line 2 baking trays with parchment paper.
Press approximately 1/4 cup of the mixture into a round mould on a lined baking tray then press flat to just under 1cm high. Repeat to use up all the mix.
Place in the preheated oven for 10 minutes then flip and cook for a further 10 minutes.
While the burgers are cooking, prepare the dressing: put tahini in a small bowl, add the water and stir in thoroughly. Add the lime juice and seasoning. Stir well then taste for seasoning and adjust as necessary. Can also be made in a small food processor.
Serve with all the trimmings in a bun of your choice or wrapped in a large lettuce leaf to go bread-free. I suggest some grated beetroot, a thick slice of beef tomato, a big wedge of avocado and a generous pour of tahini dressing.