This warming stew is so easy to put together, making it a perfect mid-week meal, and great for batch cooking to give you plenty of leftovers too.
I eat lots of stews in winter time. You can't beat a big bowl of hearty stew on a cold day. I also want something that I can create quickly and easily, however, and that will still pack a punch of flavour. This recipe does just that.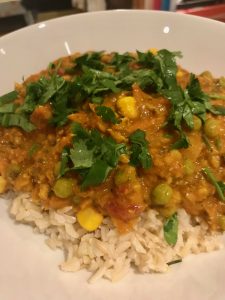 I also find stews are a great option to feed all the family and a neat way of including a variety of vegetables in your and your family's diet.
Most of the vegetables in this recipe are frozen. Of course, you could use fresh, but they aren't in season during winter, and being able to add them straight from the supermarket aisle to home freezer to the pot is what makes this dish so easy to prepare. The only thing you need to chop for this dish is an onion!
If you like things spicy, you could easily add a chopped chilli or some hot chilli powder at the start to heat things up a bit.
Serve this delicious stew over whole grains or simple spoon it up from a bowl.
INGREDIENTS  |  Serves 4-6
1 tbsp coconut oil (or oil of choice)
1 onion, chopped
1 tbsp frozen chopped ginger
1 tsp frozen chopped garlic
2 tsp each of curry powder, ground cumin, ground coriander, ground turmeric, paprika
1 tin chopped tomatoes
2 carrots, grated (about 2 cups)
3/4 cup dried red lentils, soaked or thoroughly rinsed
1.5 cups water (375ml)
1 tin coconut milk (400ml)
1 tsp sea salt or to taste (less if feeding young children)
Pinch black pepper
1/2 cup frozen sweetcorn
1/2 cup frozen peas
3 blocks frozen spinach
1/3 cup ground almonds (optional)
1/2 lemon, juiced
small bunch fresh coriander, chopped
METHOD
Heat the oil in a large pan over a medium heat then add the chopped onion. Cook for 5 minutes then add the ginger and garlic and stir then cook for a few more minutes.
Add the spices. Stir to form a kind of paste in the pan and cook for a couple of minutes or until fragrant. Add a little water if it starts to stick.
Add the tomatoes, grated carrot, drained lentils, water and coconut milk. Bring up to a simmer and simmer for 20 minutes. Stir regularly.
Add the sweetcorn, peas and spinach and stir in then cook for 10 minutes. Stir regularly.
If the stew is a bit thin you can add ground almonds to thicken it. Stir in then cook for 5 more minutes.
Check seasoning and adjust if required. Leave to cook for longer if you have time, to allow flavours to develop further and to reach the consistency you like. Remove from the heat and add the lemon juice.
Spoon into bowls, with grains such as brown rice, if you like, and top with chopped coriander.
Give it a go and let me know what you think in the comments below. Better still, feed it to your family and let me know what they think.
P.S. It tastes even better the next day as the spices have really infused. Make sure you have some extras!