We had breakfast later than usual today so went crazy and had both porridge AND a green smoothie! And it was delicious. I had to share…
Sometimes recipe inspiration comes in surprising ways! Yesterday I bought a pack of organic rocket that had its price reduced in the supermarket as its use-by date was up. I'd planned to use some in a morning smoothie but also wanted to make some porridge for baby Sophie as she has a rotten cold and I thought it would be warm and comforting for her. So I made both and they both turned out GREAT.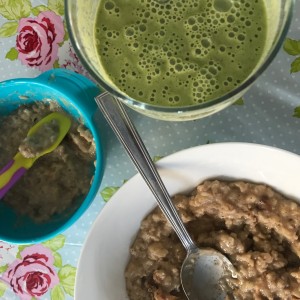 After an early wake up then an early nap for Sophie, we didn't get breakfast going until about 9.30. So my hunger also had something to do with having a double-breakfast day! Luckily Sophie still had a good appetite – she gobbled up a big bowl of porridge and a good few big slurps of my smoothie too. Hopefully all the whole-food goodness will help her on her way to recovery quickly.
Rocket fuelled green smoothie
INGREDIENTS  |  serves 1   
1/2 small banana (fresh or frozen)
1/2 cup pineapple (fresh or frozen)
1/2 cup walnuts
1/2 tbsp coconut oil
2 generous handfuls rocket
1-2 tbsp coriander
2 tbsp hulled hemp seeds ("hemp hearts")
1 cup water
METHOD
Place all the ingredients in a blender and blend until smooth. Add some water to adjust the consistency to taste.  Add a couple of ice cubes to the mix if you prefer it a bit colder or if you didn't use frozen fruit.
Nutty vegan porridge
INGREDIENTS  |  serves 1 (+ 1 baby!)   
1/2 cup jumbo oats
1/2 cup oat milk (or other plant-based milk)
3/4 cup water
1/2 apple, grated
1-2 unsulphured dried apricots, finely chopped
1 tsp ground cinnamon
1 tsp coconut oil
1/2 tbsp ground flax seeds
1-2 tsp cashew butter
METHOD
Place oats, milk and water in a small saucepan. Add apple, apricot, cinnamon and coconut oil. Stir well to mix. Heat to bring to a simmer for about 10 minutes, or until your desired consistency is reached. Stir frequently. Add some extra water to thin if preferred. Bear in mind it will thicken when you add the flax seed.
Remove from the heat and pour into bowl(s). Add flax seed and stir in. Top with cashew butter.