Cooking workshops
Do you wish you found it easier to make delicious healthy meals at home that fuelled your body with everything it needs to feel amazing?
Would you like to learn a little more about how to be healthy and why you should care?
Do you just love being in the kitchen (like me!) and want to be inspired by some new recipes and discover new ingredients and ways of using them?
As a fully qualified teacher and a Culinary Nutrition Expert, I will share with you my wealth of knowledge in a range of practical, useful topics, and deliver it in a fun, interactive and refreshing way. The theory will be accompanied by valuable hands-on cooking experience using lots of the delicious ingredients to promote your optimal health. Plus there will be plenty of opportunities for tasting along the way! Courses are all run from my kitchen in Maple Cross, Hertfordshire, and last for 2-3 hours. I'd love for you to join me and would welcome any questions that you have to find out more about any workshop. Places are very limited so sign up fast to secure your place.
Workshops available
THIS SUMMER…
I will be hosting a workshop which will inspire you to optimise your health and wellbeing. You'll be glowing on the outside and feeling fantastic on the inside.
• Learn how to use seasonal, delicious, nutritious ingredients to easily create dishes that you'll love to eat and will help you to feel great.
• Take home a sample meal plan and an abundance of ideas for breakfasts, lunches (or picnics!), dinners and tasty snacks.
• Get tips on how to tackle those naughty summer temptations.
Come and join me in my kitchen on Sunday 23rd July to get hands-on creating your own healthy meals and snacks. There will be lots of food to sample and takeaway so arrive with an appetite!
Spaces are limited – sign up today. Price: £30.
Email: [email protected]
Phone: 07841 198194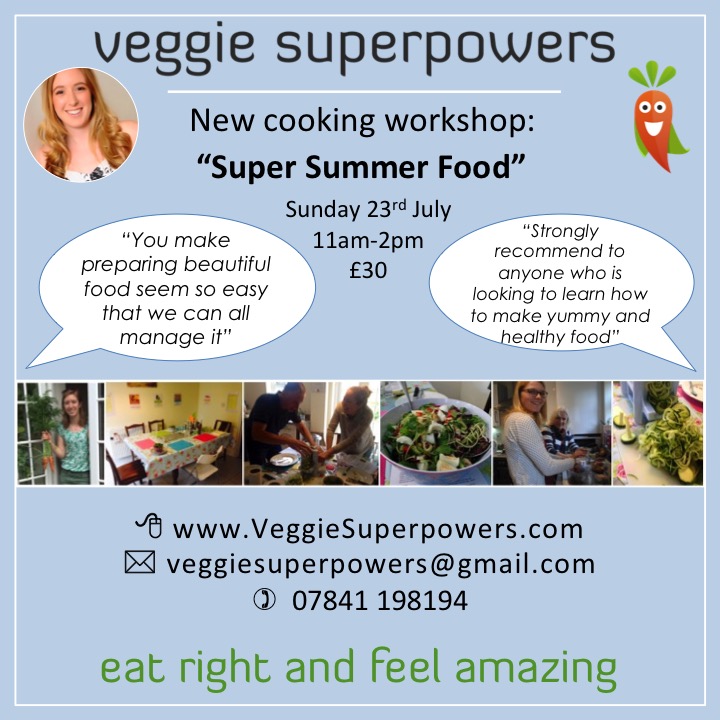 Other themes include: 
Mid-week meals for busy people, Get on the smoothie train, Eating for weight loss, Food on the run, Happy hormones, Eating for energy every day, Feed the family, Free-from baking, Being a healthy vegetarian.
Sign up
Contact [email protected] with the following information:
Class you're interested in
Name
Contact phone number
Any dietary requirements (all meals will be gluten-free, meat-free and with vegan options as required)*
Location: Maple Cross, Rickmansworth, Hertfordshire
Terms: Payment in full must be made in advance by cheque or bank transfer. Details will be provided via email. If notice of cancellation is received more than 2 weeks in advance of the course then a full refund will be provided, but please do not sign up unless you are sure you will attend. *Please note that although nut-free options will be provided, if required, the workshop will not take place in a nut-free environment.