If you once ate cheese but now you don't, a dish like macaroni cheese is something you will most likely miss. It is the epitome of comfort food. Give this healthy twist on the classic a go and see how this vegan version can be even better than the original.
There are ways of getting a dairy-free macaroni cheese: if you buy a vegan microwave meal, if you can find it; or with shop-bought vegan pasta sauces. The trouble is, they can usually be described using the term 'empty calories'. They might taste ok, and they are providing you with energy, but there is very little nutritional value in terms of micronutrients, and they lack protein and fibre – so important for your short- and long-term health and wellbeing.
Consider every time you eat as an opportunity to fill your body with everything is needs to keep you really fit and well and feeling good. Don't waste it with a meal that might fill you up but doesn't actually provide you with very much of what you really need. This is the sort of thing that leaves you feeling sluggish, dissatisfied and probably hungry again within an hour of two.
My healthy version of the classic dish is a balanced meal, with protein, fat, fibre and wholegrain carbohydrates plus a host of micronutrients including:
Vitamin C (well-known antioxidant) in the broccoli and cauliflower
Vitamin K in the leek and basil (needed for blood clotting and plays a role in bone health)
Folate in the broccoli (for red blood cell production and vital when pregnant for healthy foetal development)
Manganese in the peas (for enzyme production and healthy skin)
Vitamin B12 in the nutritional yeast (difficult to find in a vegan diet but found in nutritional yeast if you get a fortified form of this cheesy flavour enhancer)
Copper in the cashew nuts (helps with incorporation of iron into red blood cells)
There are quite a few steps to this recipe but don't let that put you off. It's all pretty easy as long as you have a food processor or blender. And by the time you've made it a couple of times you'll be doing it very speedily. You'll be sure to want to cook it again once you try it!
I chose to use brown rice pasta, instead of wheat, as I find I feel better afterwards and it has a nice texture and flavour for this pasta bake. You can use normal macaroni if you prefer but go for a wholemeal variety as it has more fibre to feed your gut bacteria and to avoid the blood sugar spike and then crash you can get from refined carbohydrates.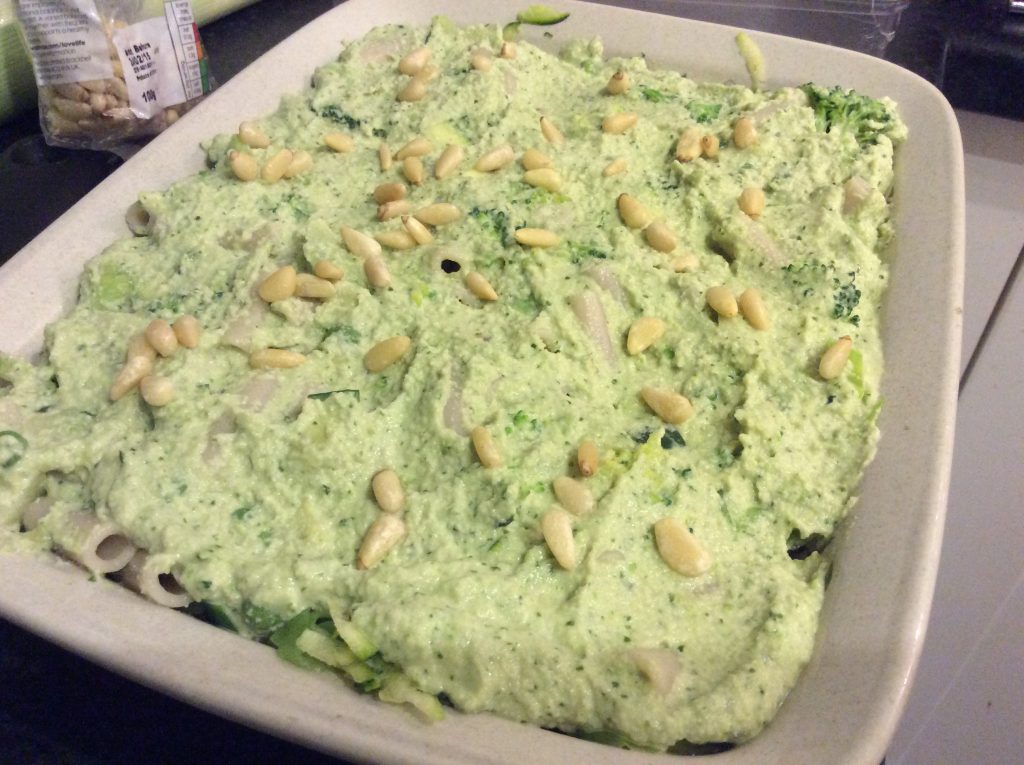 INGREDIENTS | serves 3-4
1 cup cashew nuts, soaked in water for 4 hours, drained and rinsed well
150g brown rice macaroni (or alternative shape)
1 small leek, thickly sliced

1/4 large head of broccoli, with stalks diced to 1cm and head chopped into small florets
150g frozen peas

1 cup cauliflower, cut into 1 inch florets

2 + 1 tbsp pine nuts

1/2 courgette, with half diced and half grated

1/2 cup water

2 tsp tamari or soy sauce
1 clove garlic, minced

3 tbsp nutritional yeast

sea salt and black pepper, to taste
1 bunch fresh basil
METHOD
Make sure you have pre-soaked your cashew nuts. If you don't have time it will still work but it might have a slightly rougher texture.
Preheat oven to 200oC.
Boil the macaroni according to packet instructions, adding in the leek and broccoli for the last 2 minutes. The pasta should be just 'al dente'.
Pour boiling water over half the frozen peas and leave for 5 minutes then drain.
Meanwhile boil the cauliflower in a shallow amount of water for about 10 minutes or steam until tender. Drain and set aside.
Toast the 2 tbsp of pine nuts in a dry pan for a few minutes until lightly browned, tossing regularly. Set aside.
Remove the pasta from the heat and add the other half of the frozen peas and the diced courgette. Leave to stand for one minute then drain and rinse with water.
Add the cooked cauliflower the soaked peas to a food processor with the cashew nuts (drained), water, toasted pine nuts, tamari, garlic, nutritional yeast, salt and pepper. Blend until smooth, scraping the sides down as needed. Add the basil and blend again until well combined. Check the seasoning and adjust to taste.
Combine the pasta, peas and diced courgette with the blended sauce and also the grated courgette and stir then place in a large oven-proof dish.
Scatter over the remaining 1 tbsp of pine nuts and place in the pre-heated oven for 10-15 minutes or until the pine nuts on top are lightly browned and the mix is hot all through.
Remove from oven and serve with extra steamed veggies or a nice fresh green salad.