With so many fresh, tasty, healthy takeaway meal options often available to buy all around us today, it's all too tempting to grab our meals out rather than taking something with us from home. It saves the preparation time and can even be quite nutritious if we make clever choices. But the cost of this really builds up, especially if this is a habit you have every day. Plus a big concern of mine is the amount of unnecessary packaging consumption this results in.
What we need is a tasty, easy meal we can knock together in advance that will provide meals-on-the-go for a few days. That was my motivation for putting together this recipe and I hope it inspires you to pack together a few more of your own meals to take with you when working or just out and about.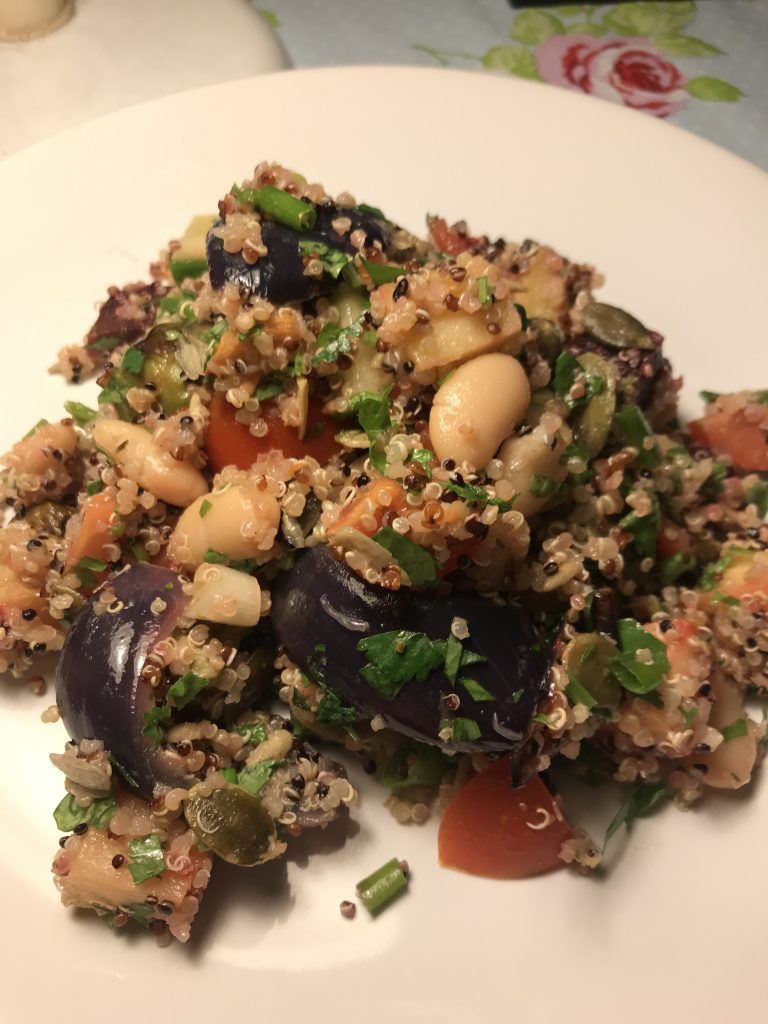 INGREDIENTS | Makes 4 servings
2-3 cups mixed winter vegetables, chopped into small chunks (1-2cm) – I used 1/2 onion, 2 parsnips, a small beetroot, a handful of sprouts and half a courgette
1 tbsp rapeseed oil
1/2 tsp dried rosemary
2/3 cup quinoa, rinsed well
1 1/3 cups water
1/4 cucumber, chopped
8 cherry tomatoes, quartered
2 tbsp pumpkin seeds
2 tbsp sunflower seeds
1 tin butterbeans, drained and rinsed well
1 handful each of fresh coriander, parsley and basil, roughly chopped
juice of a lime
2 tbsp extra virgin olive oil
salt and black pepper, to taste
METHOD
Pre-heat the oven to 200°C.
Chop the winter vegetables and place in a roasting tin, drizzle with the oil and scatter over the dried rosemary. Give the tin a good shake to coat all the vegetables. Roast for 15 minutes, toss, then return to the oven for 5-10 minutes until everything is softened to taste. Set aside to cool.
While the veg is cooking, place the quinoa and water in a saucepan and bring to the boil then simmer gently for 15 minutes then turn off the heat. After a minute, fluff up the grains with a fork. Transfer to a large bowl to cool.
Assemble all the remaining ingredients in the large bowl with the quinoa and roasted vegetables and stir well.