Pesto is so quick and easy to make and always a satisfying meal. It's really versatile too with so many lovely twists you can choose, depending what you have available on the day. Hence the invention of this tasty recipe that breaks from the norm.
Pesto always makes a great meal and of course you can buy a jar in the supermarket. Dairy-free versions are also readily available now for those who need it. But, as with anything you buy ready-made, it's hard to find one that doesn't have some less-than favourable added ingredients, added sugar and high salt. Plus, in terms of nutritional benefit, you can't beat the nutrient levels, and flavour, of fresh ingredients used and eaten straight away.
In this version, I've used peas, which are a great protein source, as well as being naturally sweet and flavourful. Parsley provides a lovely freshness and has a host of health benefits. Spinach is full of fibre and iron – be sure to combine it with a vitamin C source, like tomatoes,  to make the iron absorbable – see the serving suggestions below. Pine nuts are another protein source, as well as vitamin E and phosphorus. They also contain healthy mono-unsaturated fats, just like the olive oil too.
So have a go at whizzing up your own pesto. Once you get confident, interchange the ingredients, swap the parsley for basil or mint, swap the pine nuts for walnuts, swap the spinach for watercress. Go wild!
Pesto also freezes well, so make extra and store your leftovers for another day.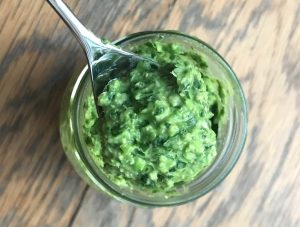 INGREDIENTS  |  Serves 4
3/4 cup peas (fresh or frozen)
1/3 cup pine nuts (can use sunflower seeds to make it nut-free)
1-2 cups raw spinach, packed (100g)
1/2 cup fresh parsley (12.5g)
1/4 cup nutritional yeast (or grated parmesan cheese)
Juice of half a lemon
1-2 cloves garlic (or 1 tsp frozen chopped garlic)
2 tbsp extra virgin olive oil
Sea salt and black pepper
water, as required
METHOD
Blanch the peas in boiling water for a couple of mins then drain and run under cold water.
Toast the pine nuts in a dry frying pan – tossing regularly until lightly browned.
Add peas, pine nuts, spinach, parsley, nutritional yeast, lemon juice, garlic, oil and seasoning to the bowl of a food processor. Blitz then scrape down the sides and blitz again until the desired consistency is achieved, adding a little water if required.  Repeat if necessary. Taste and adjust seasoning as required.
Eat immediately or store in the fridge for 2-3 days and/or pop in the freezer for later.
Serving suggestions:
Mix with cooked pasta or gnocchi along with some stir-fried veggies like onion,  mushrooms, courgette and tomatoes.
Spread on your bread to add a yummy punch to any sandwich or toasted sandwich.
Roast a selection of vegetables like peppers, red onions, courgette, aubergine and tomatoes then stir the pesto through them. Eat on their own, with a grain like quinoa or couscous, or cool and eat as a salad.
Make it a bit thinner with a little extra water and use as a salad dressing.
Use like a salsa verde to top a good quality steak or piece of fish. You might like to add some capers for some extra tang.